Q & A with Jena Hales, PhD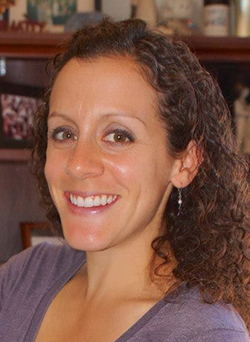 Can you describe your academic background?
I received my BA in Neurosciences (with honors) from Bowdoin College in Brunswick, ME before moving to San Diego to pursue my doctorate at the University of California, San Diego. I received my PhD in Neurosciences from UCSD in 2011. My dissertation work was done under the supervision of Dr. James Brewer and examined the involvement of hippocampal and neocortical brain regions in associative encoding, particularly when strategy and type of information is manipulated. I then continued at UCSD as a postdoctoral researcher working with Dr. Robert Clark and examining the biological bases of memory formation and retrieval using a rodent model. I am an active member of the Society of Neuroscience and have been on the Fellows Committee for the Temporal Dynamics of Learning Center at UCSD.
What do you plan to teach at USD?
While doing research at UCSD, I became actively involved in teaching both advanced and introductory psychology courses, including Clinical Neuropsychology and Assessment and General Psychology: Cognitive Foundations, in the Department of Psychology. I also taught Cognitive Psychology at USD this past fall as an Adjunct Professor in the Department of Psychological Sciences. As faculty, my focus will be on teaching Biological Psychology and the Laboratory in Behavioral Neuroscience as well as continuing to teach other courses in the fields of Cognitive Psychology, Neuropsychology, Behavioral Neuroscience, and Learning and Memory.
What do you plan to research at USD?
The vast majority of my research training, experience, and interest is in the area of biopsychology and, more precisely, the biological bases of memory behavior and cognition. My research uses rodents as a model system for exploring the biological mechanisms of memory formation, storage, and retrieval and involves various techniques for better understanding memory functions, including stereotaxic neurosurgery, behavioral testing, and histological analysis of brain tissue. These areas of research translate very well into a psychology department at a liberal arts institution and are well suited for undergraduate involvement and exploration. Initially, my research will focus on examining memory using the classic experiment of trace eyeblink conditioning. This is a beautiful task because the circuitry has been thoroughly established and the behavior has been characterized, yet there is still much that is unknown, specifically regarding how the circuit changes over time and what brain areas become active.
What are you looking forward to when at USD?
Ever since I was an undergraduate student, my dream was to someday become a professor at a liberal arts institution, particularly one that supports excellence in teaching and understands the importance of an active research program in the education of undergraduates. These values are very familiar to me, as they are shared by my undergraduate institution, Bowdoin College. While there, I discovered the significance of a liberal arts education and the unmatched experience of participating in research and scientific exploration in a setting that strongly values the education and development of undergraduates. While teaching at USD this past fall, I was thrilled to have found a university and department that reminded me of my experience at Bowdoin. I can't wait to get started setting up my laboratory and to be back in the classroom and interacting with psychology and behavioral neuroscience students!