María Ruvalcaba Gómez Receives Latin American Studies Program Award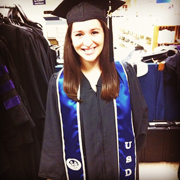 Congratulations are due to 2014 graduate María Ruvalcaba Gómez, who has been selected to receive a special award for her work in the field of Latin American Studies. It will be presented at the annual Honors Convocation on Tuesday, May 6, in Shiley Theatre at 12:30 by Prof. Alejandro Meter, the Director of the Latin American Studies Minor Program.
In addition to her minor, María is a double major in Political Science and Ethnic Studies. She is the co-president of the campus chapter of MEChA (Movimiento Estudiantil Chicano de Aztlan) and has been an active member in AChA (The Association of Chicana Activists) for which she was co-programmer and coordinator for events such as Día de los Muertos and the Farmworkers Movement Mass and luncheon. She studied abroad in Buenos Aires, Argentina during fall 2012 , and this past summer she conducted her own research through the McNair Scholars program under the guidance of Dr. Emily Edmonds-Poli on Argentina's dictatorship and human rights trials.