Changemaker Challenge 2014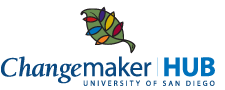 The Changemaker Challenge invites students, faculty and staff to employ imagination, hard work and passion to generate ideas for addressing a current social challenge proposed to us by leaders from the San Diego/Tijuana region.
The 2013-2014 Changemaker Challenge is "Food for Life." Everyone is invited to a year-long process of thinking about the role that food plays in our daily lives and to develop new ideas addressing issues around food production and consumption. You can enter this idea competition by completing an entry form and submitting a two minute video of your idea by April 7, 2014. A panel of judges will select the 10 best proposals to compete for a $5,000 pool of prize money. The USD community will vote online for their favorite ideas, and the number of votes each idea receives will determine its share of the pool. It seems to be a moment of contradictions when some people confront food deserts while others experience over abundance, challenging us to learn, to dialogue and to develop proposals for our communities, locally and abroad, to have positive food experiences, to increase access to healthy food and to produce less food waste.
Download the list of events scheduled for Spring 2014.
Download the Rules and Eligibility for the Challenge.
The deadline for submission is April 7, 2014. To submit your idea you must prepare a 2-minute video that includes the following:
What is the idea to adress the challenge?
How does the idea contribute to address the challenge?
How is the idea feasible? Is it actionable?
What is the expected impact of the idea? How will it make a difference?
April 7: Deadline for submissions
April 14: Finalists announced; public voting begins
April 24: Awards Ceremony