Benjamin Compton '14: Presenting at the 2013 NCA Conference
Wednesday, December 4, 2013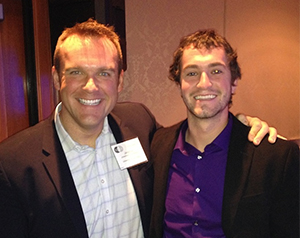 Ben Compton '14: Presenting at the 2013 National Communication Association Conference
There is no better excuse to travel to Washington, D.C. than to attend a national research conference to present a paper I co-authored with Dr. Bowman - "Self-Presentation, Individual Differences, and Gendered Evaluations of Nonverbal Greeting Behaviors Among Close Friends." Beginning early Thursday morning, I was in and out of various panels that hosted paper presentations. One of the most memorable was a paper that discussed the role of hormones in affection and aggression. It was an interesting way to combine interpersonal communication and psychology research. I also really enjoyed USD's own Dr. Chuck Goehring's paper on how fatherhood is understood culturally through the television show The Walking Dead.
My favorite part of the conference was all of the receptions. I started at the University of Illinois Urbana-Champaign's receptions, where Dr. Bradley Bond introduced me to all of his old colleagues. I then rushed off to visit friends at the University of Kansas' reception. I got to see the professors who wrote articles we read in class enjoy themselves, and it helped remind me that our professors are people too!
My own presentation was on Saturday. I had a large audience of about 60 and after presenting was asked a few questions from audience members. I had a unique experience with one audience member. Although I was unaware of who she was at the time, Dr. Judee Burgoon, one of the biggest names in non-verbal communication, asked me a few questions. Luckily, I was able to respond and carry on the dialogue. To celebrate, Dr. Jonathan Bowman took me out to dinner where we were able to finally relax after a long and tiring NCA conference.
It was a great experience and I am honored that I was able to present at such a large conference as an undergraduate. Hopefully I will be presenting for many more years to come since I plan to attend graduate school in the field.