Alyssa Powers '12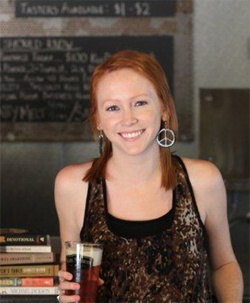 Alyssa Powers ('12)
As unbelievable as this may sound, my entire career started out as a joke between Professor Ghio and I. I was preparing to take his internship class, and I had no idea what I wanted to do with my life. I told him I liked beer and that I thought it would be fun to work at a brewery. One thing led to another and I was able to land an internship in the marketing department at Karl Strauss Brewing Company.
After graduation I was not ready to leave Karl Strauss, but their marketing department wasn't hiring. I applied for an open position in Karl Strauss' group events department and worked there for the next year. That is when I realized one of the perks of being a Communication Studies major: you never get pigeonholed into a certain career path. I was able to say, "Marketing isn't hiring? No problem! I can do this, this, or this instead." That was incredibly convenient, because when there was finally an opening in marketing, I was right there ready to apply.
Now I am the Marketing Programs Coordinator for Karl Strauss. I am in charge of our Email Marketing program, which consists of sending weekly emails to all our employees as well as writing a bimonthly newsletter for our fans. I also write the menu copy for our company's eight brewery restaurants. I have recently jumped into label copy as well. I am looking forward to seeing my words on the side of our beer bottles. Every day is busier than the last!
Earlier this month, I was able to attend the Great American Beer Festival in Denver as part of the Karl Strauss team. Besides being a complete blast, the festival put my communication skills to the test. I am actually pretty shy when it comes to talking to strangers in small groups, but I was able to network with industry members from all over the country. (Of course, the fact that we were talking about awesome beer certainly didn't hurt!)
I can't imagine a better major than Communication Studies for what I'm doing now. When I jumped into the working world, I felt prepared and able to tackle projects that came my way. My weekly marketing meetings consist of a lot of collaboration, so I promise you – those group projects totally pay off. My Comm professors at USD really helped me craft my individual writing style, and I use that knowledge every single day. Later this month I'm going to be presenting a project to the restaurant division of the company, so I'm very grateful that Public Speaking was a requirement for the major. I also love that I still keep in touch with my professors as an Alumni. How could I not? They had so much to do with leading me in this direction, and I am genuinely excited to keep them posted on what I'm up to.
Cheers, Communication department. Thank you for the unforgettable 4 years.