Ron Bonn - Retired Comm Faculty to be in PBS Documentary Shown in November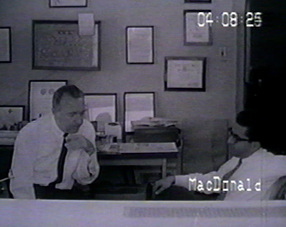 Commemorating the 50th anniversary of the Kennedy assassination in November, PBS will broadcast "One P.M., Central Standard Time," an hour-long look at how the (then) three television networks covered the shocking news itself, and the historic broadcast — four days and three nights uninterrupted even by commercials — that followed.
Ron Bonn, who taught journalism at USD until last year, was a young television journalist in the CBS newsroom when the flash message — KENNEDY SHOT — came across the United Press International wire. Ron's memories of that moment, and working with Walter Cronkite and the CBS team through the hours and days that followed, form a major part of "One P.M., Central Standard Time." Ron suggests that anyone involved in communication education — teachers and students — will find it worth watching. Tom Shales, of The Washington Post, memorably commented that that was when television news became "The National Hearth," around which the nation gathered for information and comfort.
"One P.M. Central Standard Time" will air in prime time on KPBS San Diego, (Ch. 11) during the week of November 13. Check local listings.