David Sullivan, PhD, Awarded Keck Faculty Fellows Research Grant for 2013-14
Wednesday, March 13, 2013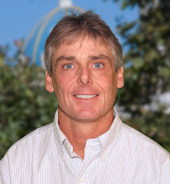 David Sullivan, PhD, has been awarded a Keck Faculty Fellows research grant for 2013-2014. The grant, administered by USD's Office of Undergraduate Research, helps to fund a project begun by Dr. Sullivan and three Communication Studies students: seniors Hannah Dixon and Michelle Ellis, and Aeron Hall, who will continue on the project in summer and fall. The research project explores how reality programming in the U.S. provides meaningful discourse about gender that, in the face of actual and symbolic challenges to traditional gender distinctions, reinscribes heteronormativity.

The research will focus on how popular reality series provide narratives by which viewers, and especially fans of such shows, negotiate their own gender identity at a time when normative conceptions of gender are in great flux. This research seeks to integrate fanship studies of masculine identity in reality mixed martial arts programming with research on the construction of femininity in female-address reality programming to more fully investigate the interaction of textual meaning and audience reception. The student investigators themselves are interested in critical analysis and original research in this area, each having pursued analyses of popular representations of feminine identity in a postfeminist era.

This is the second Keck Faculty Fellowship grant award within Communication Studies. Dr. Jonathan Bowman and student Connor Sullivan were Keck recipients in 2012 for their study, "Relational Attributions and Dual-Tasking: A Theory-Driven Approach."