Professor Ken Keith, PhD, Retires from Department of Psychological Sciences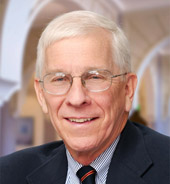 Professor Ken Keith, PhD, is retiring from the Department of Psychological Sciences after 13 years of teaching. We asked him to look back on his time at USD and share words of wisdom to his former students.
How do you summarize your time at USD?
My years at USD have gone by far too quickly. I have very much enjoyed my time here. I have had wonderful students, and opportunities to do the things I have loved throughout my career: teaching, writing, and travel. Often these interests have been combined, as in my USD-affiliated teaching in Guadalajara, in London, and at St. Clare's College, Oxford, which all involved USD students. In Japan I taught graduate students from Kwansei Gakuin University, and in all these locations I was fortunate to bring together cross-cultural psychology and my love of teaching. At home at USD the students in my classes have always been congenial, and many of my lab students have been successful in publishing their work or presenting it at conferences. I have often said that I have the best job in the world.
What are your future plans?
My future plans include going home, in the sense that we will be retiring in Omaha, where both Connie and I have family and friends. We will be near two of our three grandchildren, so I expect to spend time with them and with their various activities. Gardening and cooking are two interests that have lost out to more pressing activities in recent years, and I hope to revive those interests when I have more time. I also have plans for more writing projects, and I will probably continue to do occasional psychology departmental reviews and other professional activities. In the coming year I will give a number of invited lectures at various venues, including the American Psychological Association convention, the Rocky Mountain Psychological Association, and Nebraska Wesleyan University.
Any words for past students?
Over the years I have given students lots of kinds of advice. When I was younger, I guess I tried to make the advice profound, but as I have aged I've realized that most of life's important lessons are reasonably simple. So these days, in my end-of-semester letters I emphasize those simple ideas--things like just being kind, and trying to do something decent for somebody else every day. I would also say this to students: Life is too short to spend it doing things you don't enjoy. Try to find something you are passionate about and do your best to make it your life's work. That lesson has been marvelously good for me; I can't imagine doing anything more satisfying than the job I've had for all these years. And a final word to students: Thank you. Thank you for all you and the generations of your predecessors have done to make my life so much better than it would otherwise have been.