Congratulations to the Master of Science in Real Estate Class of 2017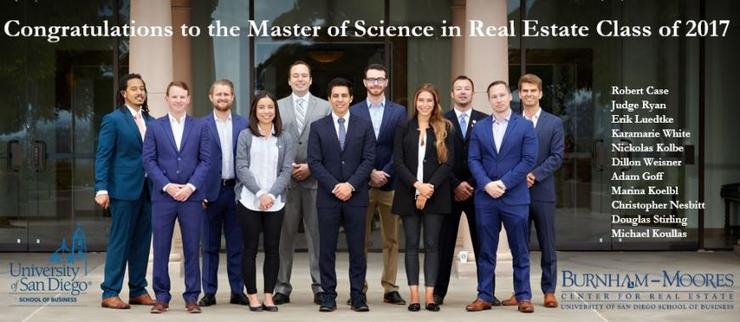 The University of San Diego School of Business and the Burnham-Moores Center for Real Estate congratulate the Master of Science in Real Estate class of 2017, which includes Robert Case, Adam Goff, Marina Koelbl, Nickolas Kolbe, Michael Koullas, Erik Luedtke, Christopher Nesbitt, Judge Ryan, Douglas Stirling, Dillon Weisner, and Karamarie White.
This graduating class is unique in that two members are champion world-class competition sailors, 18 percent are veterans, and collectively they can fluently speak seven different languages. The MSRE alumni have landed jobs at companies including: KPMG, HG Fenton, Murfey Company, Badiee Development, and Halliday Management. Seven part-time students will return in the fall to graduate as a part of the class of 2018 next May.
"We are very excited about our incoming cohort," says Ashley Adams, community outreach and MSRE recruitment manager for the MSRE program. "Interest in and applications for the MSRE program have increased, and we expect to have an excellent group of driven, accomplished, and engaged students in the class of 2018." Apply to the MSRE program.
Phone
Phone: (619) 260-4830

Map
Olin Hall
5998 Alcalá Park
San Diego, CA 92110