Career Builder
Andrea Godfrey Flynn, Associate Professor of Marketing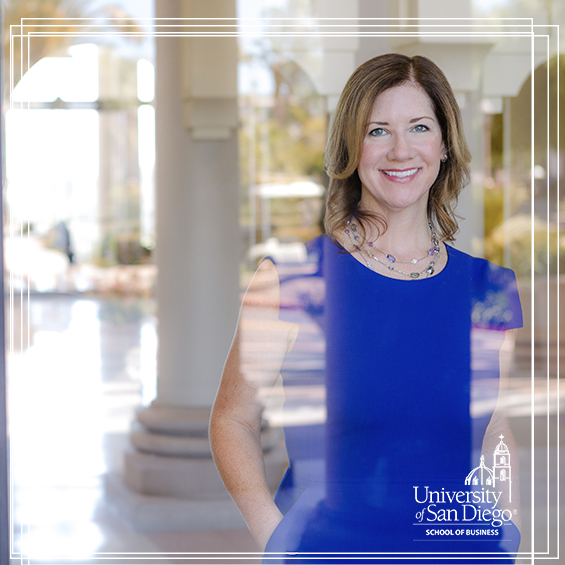 Developing fan loyalty with bobblehead giveaways, teddy bear tosses and Taco Tuesdays didn't always interest Andrea Godfrey Flynn. In fact, she began her career as a civil engineer. But today when the San Diego Gulls and other marketers want to understand consumer behavior, they turn to the associate professor of marketing — and her students — for creative insights.
Flynn's route to the University of San Diego wasn't a traditional academic path. After receiving her engineering degree, she took her place alongside her father at the family firm, Godfrey Associates in New Brunswick, Canada. She enjoyed the challenges of designing water systems and gas lines for her community, but after four years, Flynn traded in her steel-toed boots and hardhat for textbooks, and began measuring consumer trends instead of gas lines.
"My passion wasn't in civil engineering, but I did have an interest in managing the company, so I decided to return to school to get my MBA," she says. "While I was there, I had a marketing internship with a retail apparel chain and fell in love with consumer research."
Researching passion.
With encouragement from her professors, Flynn went on to obtain her PhD in marketing. Although the research required for post-graduate work was a departure from building utility systems, the lessons Flynn learned from her father came in handy. "Managing customer relationships was very important to my family's firm and that value was ingrained in me early on," she says. "That's why my research focuses on service."
Over the years, Flynn's studies on behavioral dynamics — such as the diminishing returns of over-surveying customer satisfaction and the impact of advice-giving frequency and focus on negative outcomes on patient compliance — have been published in the Journal of Marketing, the Journal of the Academy of Marketing Science and the Journal of Service Research. She is currently studying how customers respond to sales people by collecting data from shoppers through online and in-store scenarios.
Teaching what she practices.
Flynn shares experiences from her fieldwork with her undergrad and MBA students. Beyond learning theory and how to interpret data, they gain an appreciation for what it means to be a researcher in a world that often requires improvisation. "They learn how to deal with contingencies," she says. "It's eye-opening to see that things don't always go according to plan."
Many of her students come from family businesses or have family members who run their own companies. Flynn can relate.
"Some students feel a lot of pressure to follow a set career path, so I try to put them at ease," she says. "It's hard to predict where your path will take you, but if you focus on what excites you now, that path will open doors."
Flynn's door is always open as she prepares her students for jobs with organizations like JD Power, the San Diego Gulls and the Sacramento Kings. "It's not enough to know how to analyze data," she says. "You must have strong interpersonal and communications skills to share your insights and recommendations effectively." And she's been able to do just that at southern California companies, such as Lyft, PetCo, NBC Universal, Illumina, E&J Gallo Winery and Target, who participate in the annual USD American Marketing Association (AMA) chapter events she organizes.
Whether she's networking with some of the world's top brands, compiling consumer research or advising the university's chapter of the AMA, Flynn continues to build her unique career path by doing what she loves. Although today her analytic skills are focused on deciphering the complexities of consumer preferences rather than determining the optimal placement of utility lines, she still relies on the lessons her father taught her years ago. Ultimately, Flynn is grateful for the twists and turns her life has taken, which led her to USD.
Phone
Phone: (619) 260-4830

Map
Olin Hall
5998 Alcalá Park
San Diego, CA 92110