Back to School Undergraduate Real Estate Alumni Dinner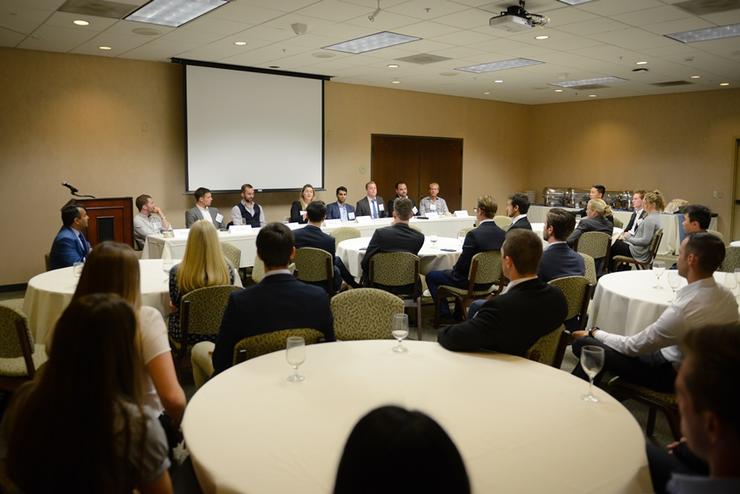 On April 21, a "Back to School Undergraduate Real Estate Alumni Dinner" featured a panelist of eight alumni of the University of San Diego undergraduate real estate program who shared insights into their real estate careers and experience with more than 30 USD undergraduate real estate students.
The event, which has been held the last two years, encourages recent alumni to return to campus to share their journey through the real estate program and highlight their work experiences within the industry. The event was conceptualized by Associate Professor of Real Estate Vivek Sah.
The dinner event was held on campus and commenced with welcome messages given by Sah and Dean Jaime Alonso Gómez. Following the opening remarks, a panel of alumni guest speakers shared their real estate experiences with the students. Alumni panelists included: Brandon Arner '13, manager associate at Development Planning and Financing Group; Samantha Barry '13, assistant vice president at Red Mortgage Capital; John Endres '13, acquisitions team at Brixton Capital; David Hamilton '13, vice president of production at PSRS; Tyler Hanson '13, associate broker at Cushman & Wakefield; Akhil Israni '11, '14 MSRE, project manager/development and acquisitions at Pacifica Companies; Jameson Johnson '13, senior associate at Stos Partners; and Dan Leon '15, director of acquisitions at the Heritage Group.
The event was sponsored by the Burnham-Moores Center for Real Estate and the School of Business at the University of San Diego and Stos Partners.
View photos of the event.
Phone
Phone: (619) 260-4830

Map
Olin Hall
5998 Alcalá Park
San Diego, CA 92110