Real Estate Students at USD's School of Business Win ARGUS University Challenge Fourth Year in a Row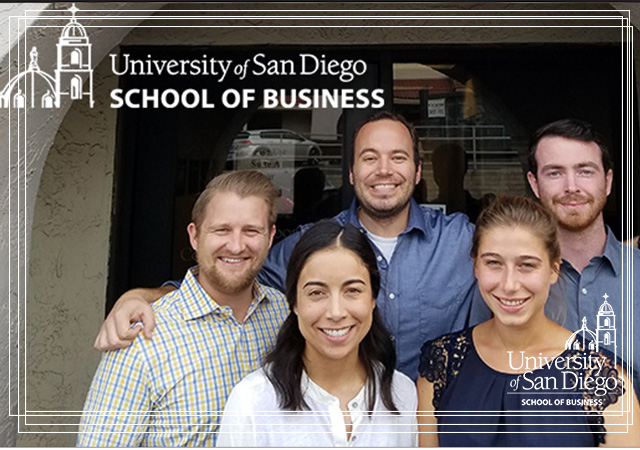 A team of Master's in Real Estate students from the University of San Diego School of Business and the Burnham-Moores Center for Real Estate has once again defended its title in the 2017 ARGUS University Challenge.
This victory makes the fourth first place win in a row for USD. In the eight years the competition has been held, the School of Business team has taken first-place on six occasions and second-place on two occasions.
The 2017 team of Adam Goff '17, Marina Koelbl '17, Nick Kolbe, Erik Luedtke '17 and Karamarie White '17 was led by faculty advisor Charles Tu, the Daniel F. Mulvihill Professor of Commercial Real Estate.
The 2017 ARGUS University Challenge focused on three sub-par retail centers in three cities on the verge of potential economic expansion. The property owner tasked teams with determining the best course of action for each property: sell, re-finance the existing debt and continue to hold, or upgrade through capital improvements and continue to hold. Based on thorough market research, consultations with industry professionals and knowledge gained from the classroom, Team USD concluded that performing capital improvements and continuing to hold maximized the value of each property. However, Team USD went beyond what was required and recommended a fourth option: upgrade each property through capital improvements and sell in the near future.
"Our team appreciates the opportunity to participate in the ARGUS University Challenge," says White. "Throughout the six weeks working on the report, we expanded our market research abilities and ARGUS modeling knowledge. These fine-tuned skills, accompanied by a positive group experience, will prove to be invaluable throughout our careers."
This year, the team competed against more than 30 top universities from countries around the world for cash prizes totaling $22,000. The USD team's 2017 ARGUS trophy will be showcased at the Burnham-Moores Center for Real Estate. The team also received $12,000 for their work.
Learn more about the ARGUS competition.
Read local media coverage about USD's ARGUS win:
GlobeSt.com
SD Metro
SD Transcript (requires subscription)
Join the winning ARGUS team and apply to the MSRE program. Contact (619) 260-2256 or email realestate@sandiego.edu for more information.
Phone
Phone: (619) 260-4830

Map
Olin Hall
5998 Alcalá Park
San Diego, CA 92110