MIPIM 2017 Trip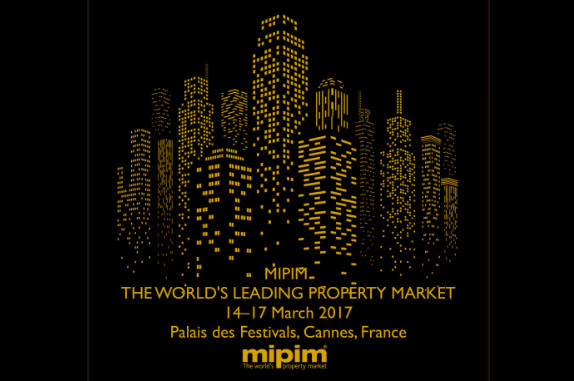 Norm Miller, Hahn Chair of Real Estate Finance, Stath Karras, executive director of the Burnham-Moores Center, and four MSRE students, Chris Nesbitt '17 MSRE, Judge Ryan '17 MSRE, Dillon Weisner '17 MSRE and Morgan Plaster '17 MSRE ventured to Cannes, France, for the MIPIM 2017 Conference March 14-17. MIPIM is the largest executive level commercial real estate conference in the world that includes developers, investors, start-up tech firms serving the real estate industry, consultants, and many cities promoting development in their cities. MIPIM 2017 in Cannes was attended by nearly 25,000 professionals, with other smaller MIPIM events held in London, Hong Kong, New York, Tokyo and elsewhere.
The University of San Diego sent a team from the MSRE program to cover the MIPIM event. The four MSRE students were selected to be official bloggers at the MIPIM event and they began bloggin in fall 2016. USD was one of four U.S. universities at the MIPIM conference, but were the only official bloggers, along with professional journalists, covering sessions at the event. Karras and Miller also prepared a few blogs on sessions of interest. The USD blogs are part of the MIPIM website, Global Real Estate Experts, shared with members all over the world.

USD MIPIM Team Blogs:
November 3, 2016 Canadian Government Bursts Vancouver Housing Bubble.
December 15, 2016 3D Printing is Going Big.
January 19, 2017 New Age Office Buildings: Keeping the Occupants and Tenants Happy.
February 6, 2017 How Millennials are Changing the Real Estate Market.
February 14, 2017 Trump's Behavior Dominates Everything Including Real Estate.
February 22, 2017 Co-Working Continues to be Refined as France Helps Lead the Way in Wireless Technologies.
February 28, 2017 How to Effectively Manage Cross Border Investments to Mitigate Housing Price Bubbles.
March 14, 2017 LIVE Report: Emerging Trends – RE Global Outlook.
March 15, 2017 Live Report: How disrupting technologies impact the way we design, build and operate.
Pending Publication, March 2017 Why Invest in Nordic Real Estate.
Pending Publciation, March 2017 CBRE Interview at MIPIM – With Nick Axford, global head of research at CBRE and Miles Gibson, UK head of research at CBRE.
Pending Publication, March 2017 How Innovative is the German Real Estate Sector?
Pending Publication, March 2017 LIVE Report: Cities Against Climate Change.
Pending Publication, March 2017 LIVE Report: Hosting International Events.
Pending Publication, March 2017 LIVE Report: Share My Office.
Pending Publication, March 2017 LIVE Report: Why is Turkey a Hot Spot for Investors?
RECAP OF EVENT
At the opening ceremony Parag Khanna, senior research fellow in the Centre on Asia and Globalisation at the Lee Kuan Yew School of Public Policy at the National University of Singapore and managing partner of Hybrid Reality, convinced MIPIM attendees that connectivity is everything. High speed communication is the infrastructure for any serious economic growth. Great cities are both well connected and are melting pots, attracting talent from around the world.
Nearly every city and country at the conference was receptive and encouraging investment in their region without regard to source or nationality, yet heard frequently were "geo-political risk" concerns with BREXIT and the election of President Trump as adding more geopolitical uncertainty than felt in many years. Upcoming elections throughout Europe were mentioned as adding to this uncertainty and whether the world will follow suit towards isolationist policies or open market policies.
When asked about recessions on the horizon, particularly in the U.S. with its record setting stock market, strong employment numbers (235,000 net new jobs in February) and rather low real estate cap rates, the reactions included comments about pricing being in nosebleed territory and certain interest rate increases would not be offset by rental growth, thus values would decline. This begs the "when" question and the range of answers included "18 months" to "late 2020," depending on whether the U.S. implements an infrastructure stimulus package and reduces corporate income taxes, both of which could delay a recession.
Most investors are watching and trying to be as nimble as possible with a clear flight to quality, larger core markets in well occupied properties, as part of current strategies. Some investors are moving to the more recession resistant multifamily sector. Others are going into distribution and industrial, following the growth of ecommerce and avoiding retail that is most susceptible to on-line penetration. Office markets are being affected by changes in workplace trends and within these there are winning and losing strategies. One consensus was - today we live in a whacky, uncertain world and China's influence will increase if the U.S. leaves a vacuum to fill.

Aside from covering sessions, the MSRE students attended a start-up competition featuring new technologies and ideas. One new technology idea was a phone app that lets you find vacant parking spaces, park, pay and provide feedback on the user friendliness of the garage. Another, called "Envelope," is a software company spun out of a long-time collaboration between award-winning SHoP Architects, and the Director of MIT's Civic Data Design Lab. Their 3D urban mapping platform integrates proprietary geospatial datasets, uses sophisticated algorithms and provides 3D visualization of what is possible for developers. This firm used optical character reading software to integrate rules from some 40,000 pages worth of zoning rules. They included all existing property and uses in the maps.
Exhibitions
This year, San Diego and Tijuana joined forces, hosting a booth within the acres of exhibition space at MIPIM. Visitors stopped by with questions, including questions about the San Diego- Tijuana mega region and President Trump's proposed wall along the border. One exhibitor provided a demo of a large wave making machine called "Okahina Wave" that could be placed in any natural harbor or lake. Another exhibitor, Crystal Lagoons, created mega swimming pools that looked natural, but had no sharks or alligators to contend with and could be set up nearly anywhere. Seeing two such exhibitors brings to mind the natural partnerships that can form by setting up a large lagoon with crystal clear water with the wave machines for an awesome resort.
MIPIM Team Meetings
The USD MIPIM team also attended private meetings with CBRE's Global Research Director, Amstar, USAA, Real Capital Analytics, Kensee, Schneider Electric, EY, Share Your Office, among others. These meetings, addressed geo-political risks, capital market trends, the problems of negative interest rates in Germany, and more.
View photos of the MIPIM trip.
Phone
Phone: (619) 260-4830

Map
Olin Hall
5998 Alcalá Park
San Diego, CA 92110