Long Featured in San Diego Business Journal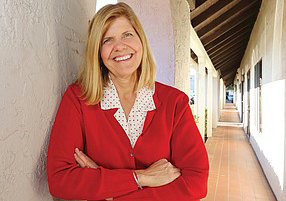 Mary Long, managing director of the Supply Chain Management Institute in the University of San Diego School of Business, is featured in the February 9 issue of the San Diego Business Journal.
The Q&A feature article covers Long's career at major brands, including Campbell's Soup, General Mills, Pepsico and Domino's Pizza.
Long joined the USD School of Business in January 2017. She is currently incoming chair for the Council of Supply Chain Management Board of Directors and also serves on the advisory board for AWESOME (Achieving Women's Excellence in Supply Chain, Operations, Management and Education).
Her career includes 15 different supply chain roles and spans 10 different cities in eight different states. Long has also worked in manufacturing operations and foods distribution. Her expertise includes logistics, supply chain strategy and systems, sustainability, supply chain agility, engineering, manufacturing, global equipment and supply, customer collaboration and operations.
Phone
Phone: (619) 260-4830

Map
Olin Hall
5998 Alcalá Park
San Diego, CA 92110