The Goodwill Brewer
Josh Longacre '13 MBA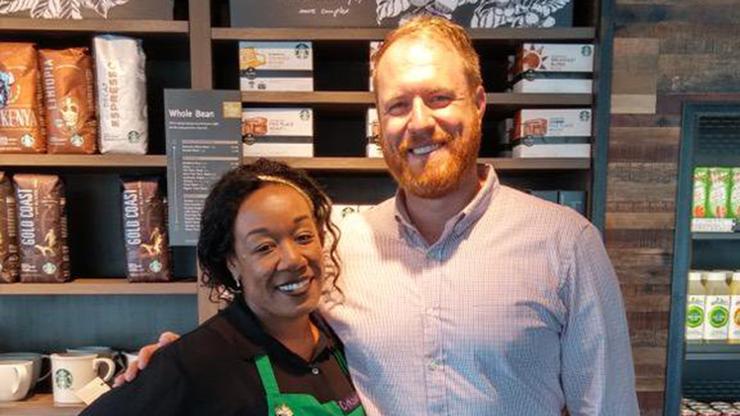 Josh Longacre steadfastly believes it's just as important to identify costly business opportunities as it is to spot fruitful ones. The USD MBA alum, who moved up to distract manager, licensed stores at Starbucks, can skillfully read financial statements now—and quickly factor a project's return on investment.
"My MBA gave me fluency in finance and changed the way I made decisions," he says. "Understanding about ROI helps me look at my options and have a better understanding of which opportunities will offer the best pay off."
Putting a values-based education to work.
Conquering finance wasn't his only accomplishment from graduate school. "I chose USD because it's a school based on business with values," says Longacre. With the university's deep social and ethical convictions blazed into his heart, he made it a point to bring values into his workplace
Longacre developed programs aimed at helping underserved youth, including a mock interview program that gives refugee high school students an opportunity to learn business skills. In the early days when it was just he and another staff member interviewing, he witnessed the profound effect the program was making.
"One student really stood out to me," Longacre recounts. "He was 18, from Kenya and dressed in a full suit. We were so impressed by his candor and awesome personality, that we invited him for an actual interview." While the program was intended to only train and develop skills, the company hired the student—and his success gave hope and promise to all the other refugee teens who showed up for mock interviews.
Finding the real source of happiness.
In 2015, Longacre returned to USD for a post-graduate study abroad trip to Guatemala to learn how farmers benefited from micro finance loans. Only he would learn so much more.
"It was mid-afternoon when I visited a coffee grower and his family who had just finished farming for the day," Longacre remembers. "I had this mentality of 'We're here to help these people sell coffee.' But referring to them as 'these people' was me bringing in this unconscious bias that they were different from me.
"I realized while talking to this family that these are more than just people—these are our business partners. Meeting with the Guatemalan farmers helped me see how every person is valuable."
As he visited more farms, Longacre got a once-in-a-lifetime opportunity to meet and talk with some of the very farmers who grew and sold their coffee to Starbucks. What he saw astounded him.
"I've worked for the company for 13 years and have seen us do a lot on our end to maintain quality. But these farmers take quality to a whole new level. They plant very specific shade trees that retain water and deliver water back to the trees. And they select workers whose hands have lower acidity levels so that they don't damage the coffee plants."
It wasn't hard for Longacre to come back from his trip feeling refreshed, gaining a new perspective—and entertaining a new daydream.
"Sometimes I think about going back to Guatemala and growing coffee," he winks.
Maybe one day he will.
Phone
Phone: (619) 260-4830

Map
Olin Hall
5998 Alcalá Park
San Diego, CA 92110