Stath Karras Leads Panelist Discussion at Future of Workplace Ecosystem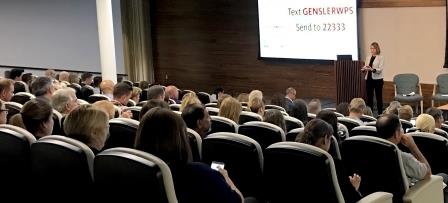 On October 6, 2016, Stath Karras, executive director of the Burnham-Moores Center for Real Estate, moderated a panel at the Future of the Workplace Ecosystem event held at the Alexandria at Torrey Pines.
The topic of the event examined how and where work is happening, how effectively the physical workplace supports that work and how the workplace can drive organizational innovation. Panelists included Maria Martinico, director of workplace at Gensler, Jessica King, director of design and construction at Alexandria Real Estate, Paul Anderson, director of well-being at OFS Brands, and DeLinda Forsythe, CEO and founder of ICE.
The panel discussion was based on Gensler's U.S. Workplace Survey 2016, which includes responses from more than 4,000 U.S. office workers. The survey allows organizations to identify steps to improve employee engagement, drive innovation and increase creativity. Gensler states, "we always knew great workplace design drives creativity and innovation now we can prove it."
View Gensler's U.S. Workplace Survey 2016.
Phone
Phone: (619) 260-4830

Map
Olin Hall
5998 Alcalá Park
San Diego, CA 92110