Real Estate Mentor Breakfasts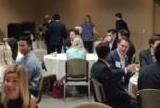 In October, the Burnham-Moores Center hosted two mentor breakfasts; one for the undergraduate real estate students and a second for the Master of Science in Real Estate students.
The undergraduate real estate mentor breakfast was held on October 13. This year, 26 School of Business real estate students are participating in the mentor program. Each student is paired with a real estate professional working in their respective field of interest. Mentors and students are encouraged to meet at least three times during the year. Meetings include site tours, job shadowing and networking with other industry professionals. The program serves the dual purpose of enabling real estate students to learn more about the industry while simultaneously creating an avenue for USD real estate alumni to give back.
A special thanks to the undergraduate mentors: Carey Algaze '12 MSRE '12 MBA, John Bainer '10 '16 MSRE, Manuel Balderrábano, Shannon Biszantz '02, Robert Brown '11 MSRE, Chris Carter '12 MSRE, Cody Charfauros, Gregor Connors '14 MSRE, Liz Henderson '15 MSRE, Chris High, Aaron Hill, Kelley Holderman, Chad Iafrate '01, Jameson Johnson '13, Alex Leonard '12 MSRE, Wendy Messenger '15 MSRE, Brian Mulvaney, Serena Patterson, Brian Revelli '06 MSRE, Craig Sanger '03 MBA, Mike Sieman '08 MSRE, Kelly Souza '03, Lauren Suazo '04, Kevin Thene, Joanne Yaghdjian '11 MSRE and Mary Ann Yaghdjian '07 MSRE.
On October 18, the Burnham-Moores Center hosted its annual MSRE student mentor breakfast. This year 14 MSRE students are shadowing prominent real estate industry leaders dedicated to mentoring our next generation of leaders. The BMC thanks the 2016 mentors of our MSRE students: Charlie Abdi '83, Chris Arthur '06 MSRE, Alex Beaton '97, Ed Cappozolli, Brian Gates '11 MSRE, Mark Gleiberman, Jamas Gwilliam '06 MSRE, Mary Lydon, Alex Plishner, Jim Reynolds, Ira Schwartz, Jake Schwartz '02, Mitch Seigler and Roger Simsimian.
If you are a USD alumni or an industry leader interested in participating in the mentor programs, contact Jackie Greulich, student and career services manager at the BMC at (619) 260-7619. Join the Real Estate Alumni Association (REAA).
Phone
Phone: (619) 260-4830

Map
Olin Hall
5998 Alcalá Park
San Diego, CA 92110