Sixth Annual Women in Real Estate Conference Recap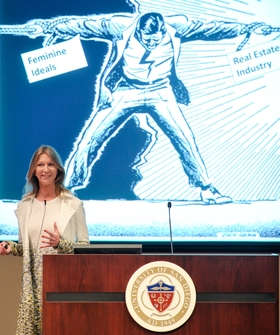 The Burnham-Moores Center for Real Estate hosted its Sixth Annual Women in Real Estate (WIRE) Conference on October 26. The event featured Barbara Stewart, global researcher and author of the Rich Thinking series of white papers on women and finance. Approximately 200 real estate leaders attended the event.
Stewart shared insights from her seven years of research and personal interviews with more than 400 leaders from around the world, primarily focusing on "smart women." She discussed the need for a changing paradigm of communications in business and the importance of a shift from the more "masculine" culture to a more "feminine" culture. Stewart says that in 2016, feminism is a business issue–we will all be feminists in business and diversity leads to smarter decision making. "If you want to make your culture more attractive to millennials, shift to a 'smart-women' culture," says Stewart.
Stewart also addressed the importance of women becoming financially literate–the financially confident woman. "Smart women are the new workforce and the new target market," says Stewart. She touched on the differences between the genders when it comes to investment decision making. "Women aren't risk adverse–they are risk aware," says Stewart. She shared that smart women do their research and invest in social causes that are of interest to them. Stewart further explained that women make "aspirational" investments versus following a more "traditional" investment model.
Encouraging companies to embrace a more "feminine" work culture, Stewart touched on key ways to attract women to your company, including:
Use real-life stories and case studies
The workplace and a position must be meaningful in order to drive momentum
Have a deeper dialogue and spend more time with women–loyalty will be the return.
Create a culture which includes values, transparency and respect.
Following the keynote, the event featured an interactive fire-side chat with Stewart and Barbara Cambon, real estate advisor and Burnham-Moores Center for Real Estate policy advisory board member. Conference attendees chimed in and asked meaningful questions. A networking cocktail reception followed the event.
A special thanks to our presenting sponsor, CREW and to our corporate, reception and media sponsors. View slides from the conference. View photos of the conference.
Phone
Phone: (619) 260-4830

Map
Olin Hall
5998 Alcalá Park
San Diego, CA 92110