Opening Minds Through Economics
Deborah Kelly, clinical professor of economics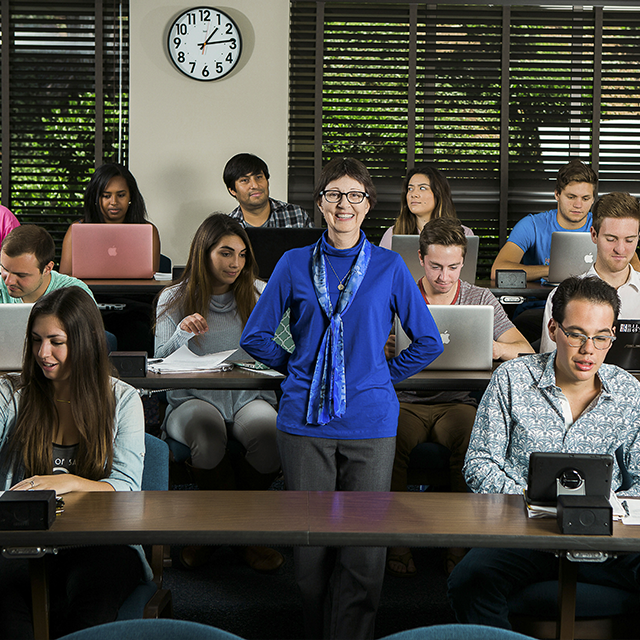 begin quote

It's important that we as professors, as the School of Business, as academia in general meet the needs of this generation of students.
Deborah Kelly may be on her third career, but teaching at USD is her passion. In the classroom, she brings more than her vast, practical experience as a software engineer and bank manager, or her nurturing nature from once being a stay-at-home mom—she also brings in the world.
"I am reading constantly about current events that relate to my courses. Bringing in this type of content connects students to the material," Kelly says. "And they have interesting things to say about economics—it lights a spark in them, and then it lights a spark in me to see them excited."
To Kelly, this give-and-take aspect of teaching is one thing that sets USD apart. "Almost every professor has had experience outside academia, so we can bring that into the classroom and then we can turn around and connect students with companies for internships and experiential class projects."
One of the many ways Kelly champions her students is by adopting different teaching styles and ensuring they each have a voice. In her classrooms, small group work and classroom discussion are the norm, and through a unique written Q&A system, Kelly gets immediate feedback from every class to evaluate how well the materials have been understood. Her approach keeps paying off.
"We talk in class continually about how irrational consumer behavior prompts businesses to respond to these different behaviors," says Kelly. "Well, my students have real suggestions—they see what hasn't worked and what they would do differently. These class discussions open their eyes to an entirely new angle of thinking."
Over the years, Kelly has noted a change in the students with whom she works. Because they've gradually shown more interest in being prepared for the work world, she has risen to the challenge and now inserts activities into the classroom that subtly get students—even the freshmen in her Intro class—to start thinking about their futures.
"I have learned to set the bar high because they set the bar high," says Kelly. "It's important that we as professors, as the School of Business, as academia in general meet the needs of this generation of students."
The proof is in the product.
Well-loved by students across campus, Kelly has also connected with the Athletics department and regularly meets with alumni and donors to share her enthusiasm for all things USD. She often finds herself listening to an anecdote or exercise that occurred several years ago that a former student still remembers from her classroom—and she's often credited for the career moves those students made after leaving USD.
Which is why Kelly makes sure she sits in a good seat every graduation — not so she has enough legroom or easy access to the exits, but so that she can stand up and hug or shake hands with each student that was in her class.
"It's cool to see them come up the row and get ready for their next steps," Kelly says. "I'm sad, but I always make sure to tell them 'You made it'."
Phone
Phone: (619) 260-4830

Map
Olin Hall
5998 Alcalá Park
San Diego, CA 92110