Burnham-Moores Center Welcomes the 13th MSRE Class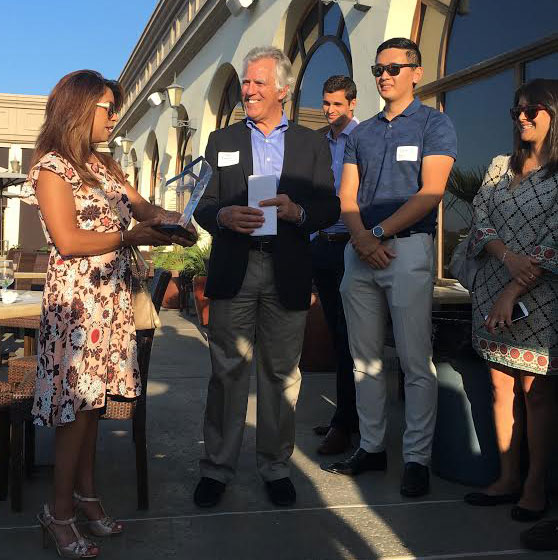 The 13th cohort of the Master of Science in Real Estate (MSRE) program kicked-off the academic year August 22 with MSRE 500, an intensive course designed to expose new students to the MSRE program, the university, the real estate industry and San Diego.
During this five-day course, students attended lectures given by a variety of civic, real estate and university leaders and alumni. A broad range of topics were presented, including local demographic issues, real estate development, niche real estate sectors, as well as professional organizations. Workshops on fundamental financial concepts, Microsoft Excel, managing one's professional image and presentation and research skills were also addressed to prepare students for a challenging year ahead.
Outside of the classroom, the students attended a welcome reception on campus with MSRE alumni, Policy Advisory Board (PAB) members and the Burnham-Moores Center for Real Estate's faculty and staff, and Michelle Muñiz '16 MSRE was given the 2016 Daniel B. Woodruff Memorial Scholarship award. The students also visited Alexandria's headquarters in Torrey Pines to hear Alan Beaulieu, principal at ITR Economics, speak on the world and U.S. economies along with the PAB members and the BMC's faculty and staff. USD's School of Business hosted a harbor cruise on the last day of their fast-track orientation, where the cohort met with their fellow graduate business students, faculty and staff.
Several of the new MSRE students are competitive sailors who have won first place in various sailing competitions in the U.S. and aboard. We are proud to have military veterans and a dual-degree student from University of Regensburg, Germany, in the class of 2017!
The BMC welcomes the new class and wishes them great success this academic year.
Phone
Phone: (619) 260-4830

Map
Olin Hall
5998 Alcalá Park
San Diego, CA 92110