Kelly Douglas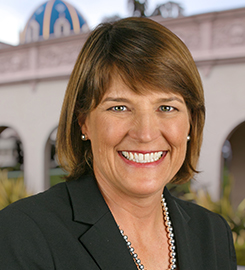 Office:
Hughes Administration Center 320
General Counsel
Kelly Capen Douglas became the general counsel at the University of San Diego in 2005. As general counsel, she oversees and manages all legal affairs for the university and is responsible for a wide range of legal issues that relate to the university's activities and operations, including employment and faculty matters, student issues, policy development, intellectual property matters, contract development and review, campus safety, athletics, government regulations, and other matters pertinent to institutions of higher education. Ms. Douglas serves as the primary legal advisor to the Board of Trustees and is responsible for the management and oversight of the institution's outside legal service providers.
Prior to joining USD, Ms. Douglas was a partner at Luce Forward Hamilton & Scripps LLP, where she specialized in employment law, served as the leader of the labor and employment law practice group, and was a frequent speaker to various human resources and business organizations.
Ms. Douglas is an active member of the National Association of College and University Attorneys. She served on NACUA's Board of Directors from 2011-2014, was the Chair of NACUA's Committee on Strategic Planning, and is a speaker and moderator at various NACUA programs. An active volunteer in the San Diego community, Ms. Douglas serves as a board member and vice chair of Goodwill Industries of San Diego and Imperial Counties and recently concluded her service as a board member of Christ Church Day School. Ms. Douglas has received honors through the San Diego Business Journal's General Counsel Awards and the San Diego Daily Transcript's Power of Attorneys program both of which recognize top corporate counsel in the community. Ms. Douglas is a member of the San Diego Chapter of the Association of Corporate Counsel and is a graduate of LEAD San Diego.
Ms. Douglas earned her bachelor's degree in international relations from Stanford University. She received her J.D. degree with high honors from the Duke University School of Law, where she earned membership in the Order of the Coif and was selected as the outstanding woman law graduate. Ms. Douglas and her husband JD have two children, Courtney and Collin.