Lizzette Herrera Castellanos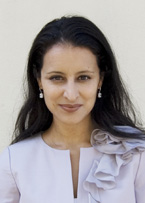 Contact Information
Assistant Director for Public Service and Diversity
JD University of San Diego School of Law
MSW San Diego State University

Lizzette Herrera is a graduate of the University of San Diego School of Law. She also has a masters in Social Work from San Diego State University. Ms. Herrera has worked with the San Diego Volunteer Lawyer Program as well as with the UCSD Binational Program, where she provided legal and regulatory assistance to children infected with HIV in Mexico and refugee clients from Africa.

In addition, Ms. Herrera is a professor of paralegal and legal studies at Southwestern College. She serves as a La Raza Lawyers of San Diego board member and is a part of the Lawyers' Club of San Diego Diverse Women's Task Force. Her valuable perspective as a USD alumnus, her leadership and action on diversity issues in the local and national communities as well as her unparalleled knowledge of the public service sector provide a fantastic resource for all students.