Faculty Bio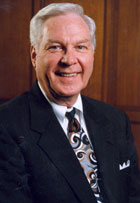 Contact Information
C. Hugh is not currently affiliated with the University of San Diego School of Law.
Download vCard
Online Resources
Assistant
C. Hugh Friedman
Professor of Law
LLD, 1976, University of San Diego
JD, 1956, Stanford University
AB, 1953, Yale University
Areas of Expertise
Professor Friedman teaches and writes in the areas of corporations, business planning and securities law.
Professional Experience
Friedman began his legal career as a deputy attorney general for the state of California. In 1958, he moved to San Diego to become in-house corporate counsel for a fast-growing corporate conglomerate. He then practiced business law as a senior partner with Friedman, Kahan, Dysart & Frasier. He has been a visiting professor at Loyola University and American University and has lectured in England, France, Japan, Hungary and Singapore. He frequently gives presentations on corporate governance issues to state and local bar associations and law firms, and testifies as a qualified expert in state and federal court litigation. He joined the USD School of Law faculty in 1977.
Honors and Affiliations
Friedman served as notes editor of the Stanford Law Review. He was appointed by President Clinton to the White House Conference on Small Business Commission and appointed by Governor Davis to the California State Air Resources Board. Friedman is a former director for the San Diego County Bar Foundation and is a member of the American Bar Association, International Bar Association, and the American Law & Economics Association. He received the Award of Honor for Outstanding Service to the Legal Profession as well as the Bernard E. Witkin Award. In 2012, he received the Belva Lockwood Award for service to the legal profession and the Lawyers Club of San Diego.
Key Works
Friedman's publications include California Practice Guide: Corporations, Vols. 1 and 2 (The Rutter Group, 1984).
---