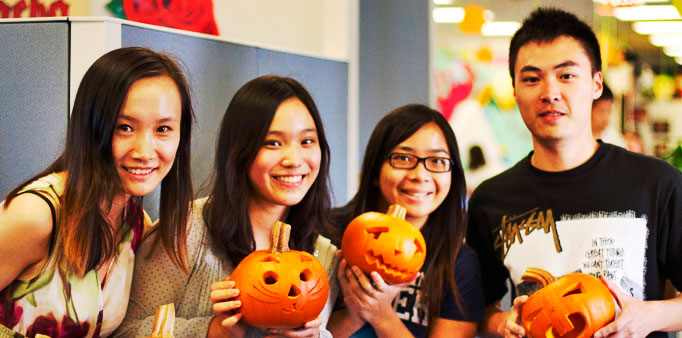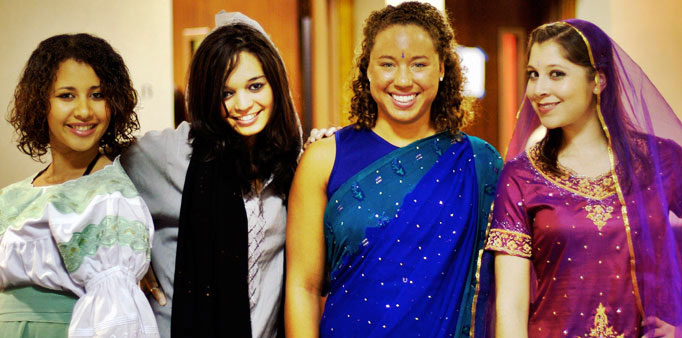 The entities described below all emphasize international activities and outreach. Please follow the links for more detailed descriptions.
Joan B. Kroc Institute for Peace and Justice
The Joan B. Kroc Institute for Peace and Justice was endowed by Mrs. Kroc to develop programs that foster peace, cultivate justice, and create a safer world. The Institute sees peace as inseparable from justice and acts to prevent and resolve conflicts that threaten local, national and international peace.
Ahlers Center for International Business
Developing business leaders with a global mindset, the Ahlers Center for International Business at the University of San Diego designs and delivers a wide array of programmatic offerings and experiences for students, faculty and the business community.
Trans-Border Institute
The Trans-Border Institute is an essential expression of USD's commitment to promote understanding, dialogue and collaboration between Mexico and the United States, and to improve relations between the people and policies of the U.S. and our southern neighbors.
Center for Peace and Commerce
The Center for Peace and Commerce (CPC) is a collaborative effort between the School of Business Administration and the Joan B. Kroc School of Peace Studies to prepare new generations of change makers. The CPC encourages students to develop effective solutions to complex environmental and social problems, and to exercise innovative approaches for making a positive impact on the 4 Ps– people, profit, planet and peace.
Oscar Romero Center for Faith in Action
The Romero Center offers service opportunities to all faculty, staff, students, and administrators at the University of San Diego, including meal deliveries to the homebound, lunch preparation at the St. Vincent de Paul soup kitchen, and community service in Tijuana.
SOLES Global Center
The Global Center of the School of Leadership and Education Sciences (SOLES) at the University of San Diego, serves to provide students and faculty with information about global education programs and the resources necessary for planning a global education adventure. The Global Center places numerous students in short-term Global Study courses, semester-long Global Student Teaching, Global Exchange and the Global Internship programs.
The programs described below all have an international emphasis in program content. Please follow the links for more detailed descriptions. See Programs Offered for a full list of programs available at USD.
B.A. Degrees in Languages & Literatures
The Department of Languages & Literatures offers courses in nine languages, with majors in French and Spanish, and minors in French, Spanish, German and Italian. Additional courses are available in Mandarin, Japanese, Ancient Greek and Latin.
B.A. in International Relations
The major in International Relations is designed to give students a holistic understanding of international affairs, providing a strong background in international relations and comparative government as preparation for careers in the U.S. and abroad as well as graduate study.
M.A. in International Relations
The graduate curriculum for International Relations focuses on comparative politics and international affairs to give students an advanced understanding of world politics and thereby enhance their career options, particularly in international fields.
M.A. in Peace & Justice 
The full-time Master of Arts in Peacebuilding (1-year program) and the Master of Arts in Peace and Justice  (2-year program), are interdisciplinary programs designed to prepare students for solving today's most vexing issues. The programs' practice based curriculum combine social justice, poverty alleviation and conflict resolution. 
M.A. in Social Innovation
The Master of Arts in Social Innovation is offered in the Joan B. Kroc School of Peace Studies. 
International M.B.A.
The IMBA is a full-time, cohort-based program designed to be completed in 16 to 22 months. The structure of the program is flexible, offering students a number of elective options in addition to the traditional business foundation courses. Students in the program have international business experiences on two continents that are organized and supported by the Ahlers Center for International Business.
B.B.A. with a Major in International Business
The major in International Business covers a broad range of business skills and knowledge while giving program participants particular expertise in navigating the global business landscape.
LL.M. in Comparative Law
Offered by the School of Law, this Comparative Law program gives foreign-educated attorneys the opportunity to study law by immersion into a contemporary and dynamic J.D. curriculum, which prepares candidates to deal effectively with U.S. attorneys on questions of common interest.
LL.M. in International Law
U.S. law school graduates study international law in a dynamic, multi-cultural city that is the world's busiest land and port entry. Candidates from private, public, and government practices study side-by-side with attorneys, judges, and government officials from around the world.
JD/MA Peace and Law Dual Degree
For more information about the JD/MA Peace and Law Dual Degree, please visit the Joan B. Kroc School of Peace Studies degree page.
November 14-18, 2016
International Education Week (IEW) is a joint initiative of the US Department of Education and the US Department of State to recognize the global exchange environment between the United States and other countries. All faculty, students and staff are strongly encouraged to participate in the various activities throughout the week! 
International Education Week 2016 Calendar
*Event dates and times are subject to change.
Campus Contacts for International Education Week
Kira Espiritu, Ph.D. (Co-Chair) – Director, International Studies Abroad
kespiritu@sandiego.edu, 619-260-4598
Jessica Calhoun, Ph.D. (Co-Chair)– Associate Director, International Studies Abroad
jcalhoun@sandiego.edu, 619-260-4598
Event Details & Descriptions - More Information Coming Soon!
Ahlers Center International Speaker Series: "The Anatomy of a Purpose-Driven Brand" with Robin Raj
Monday, November 14th from 12:15pm - 1:45pm
Robin Raj will showcase examples of international organizations (both for-profit and non-profit) that his company has worked with to develop creative and compelling brand messaging. Mr. Raj will discuss questions such as: How do you create a value proposition so compelling that it allows you to engage all of your stakeholders–from employees to supply chain partners to consumers–in a manner that is meaningful and rewarding for all? How do you 'embed inspiration' at the earliest stages of brand and product development? And how do you create greater visibility and transparency throughout your supply chain in a way that enables you to drive business innovation and growth? This presentation will highlight how to develop compelling pro-social initiatives and creative communication campaigns that benefit both brands and their communities and will showcase examples featuring a variety of leading for-profit companies, nonprofit organizations and municipalities. NOTE: PRE-REGISTRATION IS REQUIRED. REGISTER HERE. 
Crossing Borders: Film Screening and Dialogue
Tuesday, November 15th from 6:00pm-8:30pm
"Crossing Borders", a documentary film about American college students living and traveling in Morocco with Moroccan students of the same age. The film will be followed by a short panel discussion moderated by Greg Grassi, Associate Director - Office of International Students and Scholars and Professor Randy Willoughby from the Political Science/International Relations department. The panel discussion will include students who have studied abroad in Morocco as well. I
n the process of discovering "The Other", they discover themselves. The students confront the complex implications of the supposed "clash of civilizations" between Islam and the West. The relationships formed through shared experiences contrast sharply with the media-shaped views Americans and Muslims have of each other. Humor, honesty and a willingness to be challenged all bring individuals closer to each other and the relationships that develop disarm hidden stereotypes. Food and drinks will be served after the film screening.
Study Abroad Fair
Wednesday, November 16th from 10:30am - 2:30pm
Come and learn about ALL of the semester and short-term study abroad opportunities for undergraduate students! The USD Madrid Center will be featured! Meet with representatives from the various programs and get all of your questions answered. WHERE will you study abroad?
International Student Organization Holiday Dinner
Friday, November 18th from 7:00pm-9:00pm
Join the International Student Organization in celebrating Fall holidays around the world. This student event features an international buffet dinner as well as a DJ and dance-floor. All USD students are welcome.
University Ministry
USD University Ministry offers monthly service opportunities in Tijuana as well as week-long immersion programs in Latin America. Please feel free to read more information about these programs.
CASA: Center for Awareness, Service, and Action
CASA is a program within the Center for Community Service-Learning that engages over 3,000 undergraduate students annually in direct service or advocacy and awareness projects. Students in service promote the community and work for social change. The vision is global, recognizing that we can act in our immediate community, but that opportunities exist for international action as well.
All USD faculty, staff and students who are traveling abroad on university business are required to register their trip details. This registration is important as it will help USD be able to reach you in the event of an emergency.
Travel Registration Instructions 
STEP ONE: Register your trip.
Use the link below to provide your travel information. 
PLEASE NOTE: The travel registration process is for any INDEPENDENT travel you are doing on behalf of USD (university business). For example: attending a conference, sabbatical, meetings, recruitment, research, consulting, etc.
If you are participating in an organized program through the International Center, SOLES Global, Nursing, Kroc School, Ahlers Center for International Business,  Law School, SLIC, University Ministry or Community Service Learning, you do not need to register using this site. For organized group programs, your information will be collected through the individual department/area arranging your program. 
Click here to access the form (Note: This system is not compatible with Internet Exporer.  Please use another browser):
USD International Travel Registration Form


STEP TWO: Print an insurance card.
Carry this insurance card with you while traveling.
Questions?  
If you need assistance in completing the online Travel Registration, contact:
Kira Espiritu, PhD
Director, International Studies Abroad
Telephone: 619-260-4598
Email: kespiritu@sandiego.edu
Jessica Calhoun, PhD
Director, International Studies Abroad
Telephone: 619-260-4598
jcalhoun@sandiego.edu 
If you have questions regarding international insurance, contact:
Barbara Schatzer
Director of Risk Management
Telephone: 619-260-7677
Email: bschatzer@SanDiego.edu
Office Hours
Monday - Friday: 8:30 a.m. - 5 p.m.
Saturday & Sunday - CLOSED