Physical well-being is the ability to maintain a healthy body through good nutrition, regular exercise, and by avoiding harmful habits. 
Campus Recreation
The USD Fit Employee Group Exercise classes are intended for USD employees with full work schedules. Targeting class times to complement the traditional full-time USD work schedule, members may enjoy varied weekday group exercise classes during lunch or after work. Click here for more information.
Ergonomics Work Station Evaluation
The Office of Environmental Health and Safety offers ergonomic work station evaluations for employees. For more information click here.
Free use of McNamara & Missions Fitness Center
USD employees may use the McNamara & Missions Fitness Center free of charge by showing a valid USD ID to the fitness center attendant. For information about the fitness centers and their hours of operation, please click here.
Health Risk Assessments
Taking a health assessment is a quick and easy way to determine the current state of your overall health, and to figure out what steps you need to take now to improve your health in the future.
Personal Training
USD Personal Training motivates and educates our university community to achieve a sustainable lifestyle of optimal health and fitness. Utilizing functional movement screening and corresponding corrective exercises, our personal trainer creates unique programs tailored to individual needs and designed to maximize fitness success efficiently. For more information click here.
RevUp
The RevUp wellness program is designed to help integrate healthy behaviors into your everyday life in a fun and easy way! Participants of the program will receive a digital health device (Fitbit Zip) and mobile apps that enable you to become aware of your health, habits and choices. Participants earn RevUp points by performing activities such as logging food, recording workouts, and participating in team challenges! RevUp's team of online health coaches look at your data and provide personalized feedback, support, and motivation to help you along your journey to optimal health. Contact Adriana Garcia at (619) 260-2718 and/or agarcia@sandiego.edu for more information.
Self-Guided Walking Routes
Get moving and get healthy as you walk through USD's beautiful campus!  These self-guided routes range from approximately 0.3 miles to approximately 1.25 miles.  Routes vary and some include stairs and/or hills.  Choose your route based on distance or terrain, or link two or more together to make a more challenging walk.  Except for down the hill on the west side of the Shiley Center for Science and Technology, all loops are on extant pedestrian ways.  Both the West and the Main Campus loops have no stairs and are relatively flat.
Click here for a map. Click here for route descriptions.
Smoking and Tobacco-Free Campus Resources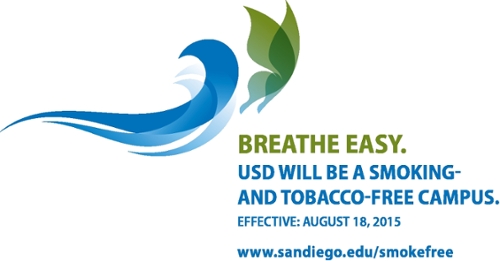 The University of San Diego will soon join other San Diego regional colleges and universities in becoming a 100% smoking and tobacco-free campus. Associated Students and the Graduate Student Council endorsed a Smoking and Tobacco-Free Campus Policy, and the Cabinet and the University Senate approved it to go into effect on August 22, 2015.  For more information, visit http://www.sandiego.edu/smokefree/. Here are smoking and tobacco cessation resources for USD employee.   
Weight Watchers at Work
This program has run successfully on-campus and continues to motivate employees to lead a healthier lifestyle.  If you're interested in losing weight and getting healthier, you may join at any time.  Sessions run for a 12-week period, but if you just found out about this program, you can join now and the fee will be pro-rated. New members are always welcome. Weekly meetings and weigh-ins are typically held every Wednesday at 11:30. Contact Adriana Garcia at (619) 260-2718 and/or agarcia@sandiego.edu for more information.