Darla Laatsch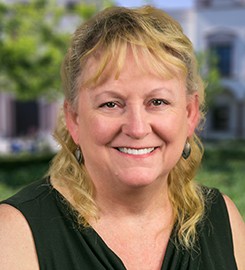 Phone:
(619) 260-4600 ext. 8712
Registered Nurse, Supervising Nurse
Darla has been a Registered Nurse since 1981, working primarily in the emergency nursing arena including 12 years as a Life Flight Nurse. She has been employed in a variety of settings including Emergency Departments, Urgent Cares, and even Sea World of San Diego. Since 2006 she has been here at the University of San Diego, the first two years as a Staff Nurse and since then as the Nursing Coordinator.
Darla has been married since 1979, has two married children and two grandchildren. Her hobbies are camping, needle crafting, reading, and working with computers. She also enjoys teaching Tilde (Chihuahua) and Sterling (Rat Terrier) lots of tricks. Freebie, a Russian Dwarf Hamster, is rapidly learning some of the same tricks.
Student Health Center
Maher Hall 140
5998 Alcalá Park
San Diego, CA 92110
Phone: (619) 260-4595
Fax: (619) 260-2375