Student Life Pavilion
When the Hahn University Center opened 22 years ago, USD had 2,500 fewer students than today. Today's students are technologically savvy and thrive on active involvement. They long for community and connection with one another. The Student Life Pavilion, a four-story, 50,000-square-foot-building near USD's main entrance, provides students with: large open spaces where students can interact with one another; significantly expanded hours; a multitude of dining options that reflect students' more sophisticated palates and healthy dining preferences; work spaces for under graduate, graduate and law organizations; and a marketplace open late into the evening.
Pavers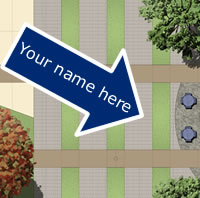 A Permanent Place in USD Student Life
We invite you to join USD in celebrating over 60 years of outstanding education by sponsoring a stone paver for the new Student Life Pavilion.
Your paver will be part of the Pavilion's Plaza Mayor, the main area of activity for all current and future students.
Please consider adding your family name or business or organization name to this

new center of campus life. Pavers are
24" x 3" x 4" $2500 donation.