Making an Impact in My Community
Meet Faye Winkler
Q: When did you decide to pursue a law degree?
A:  My younger brother and I were practically raised to be attorneys as both of my parents have careers in the legal field. We negotiated everything growing up, from who sat in the front seat of the car that week to the severity of our punishments. However, it wasn't until working at a boutique firm that my interest in the law really took off. Working at a small firm allowed me to take on projects and tasks that ordinarily a receptionist wouldn't get the opportunity to do. The more involved in the law I got, the more set on becoming an attorney I became.
Q: Why did you choose USD School of Law?
A: USD has always had my attention. While in high school, I set my sights on attending USD to complete my undergraduate studies in Business Administration. I absolutely fell in love with the relaxed and beautiful campus. I loved the campus and the quality of education that I received so much that I applied to USD School of Law. The rest is history!
Q: When did you decide to focus on energy and environmental law?
A: I grew up in a small agricultural community. I have been surrounded by livestock and agriculture my entire life, which has given me a better appreciation for my surroundings and the environment. After my first year of law school, I embraced my love of the environment and decided that I wanted a career in a field that is able to have a widespread impact on my community.
Q: What have you done to gain practical experience in the energy and environmental law?
A: While in law school, I have participated in two energy and environmental law related clinics. These clinics not only helped me increase my knowledge of energy and environmental law but also gave me the opportunity to work on practical attorney skills, such as communicating and working with a client. I also worked for the City of San Diego Public Utilities Department, which has opened my eyes to water law in California.
Q: What advice would you give to a prospective student interested in energy and environmental law? What things might you have done differently?
A: Don't be afraid to take chances and don't give up. While in law school, be fearless. Take that environmental law class that seems interesting but has an inconvenient time. Apply for that internship that you think you won't get. Make connections and work your connections. Looking back, I wish I would have been more fearless.
Q: What activities do you participate in at USD School of Law?
A: I am treasurer of the American Constitution Society, which is a student organization on campus that promotes progressive lawyering. I also am writing two agency audits regarding the California Public Utilities Commission that will be published in the California Regulatory Law Reporter by the Center for Public Interest Law. I have also worked a bit for the Energy Policy Initiatives Center and have participated in two energy and environmental law related clinics.
Q: What is the best thing that has happened to you here at law school?

A:  This may sound clich
é
, but I have learned to really understand myself. I have learned what my strengths are and how far I can push myself.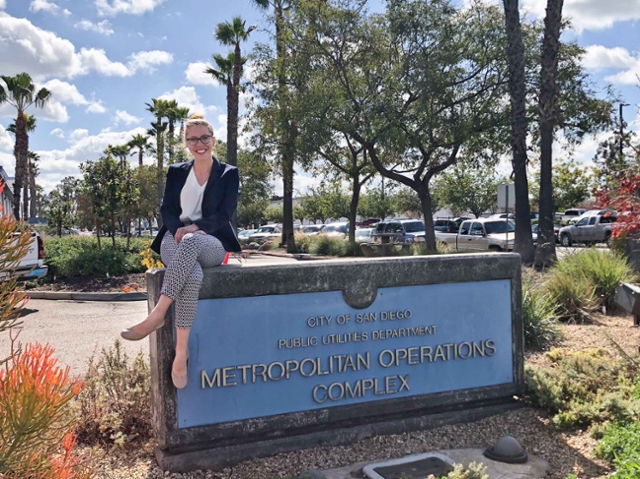 Legal interests: Renewable energy and water law
Bachelor's degree:  University of San Diego – Bachelor of Business Administration cum laude
Hometown: El Centro, California
Dream job: Attorney for either a water utility or environmental NGO