Tammy Dwyer, PhD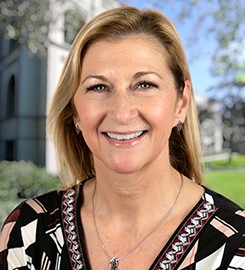 Office:
Shiley Ctr for Science & Techn 374
Professor
Professor, Chemistry and Biochemistry
Ph.D., University of California, San Diego; Chemistry

M.S.,University of California, San Diego; Chemistry

B.S., California Polytechnic State University, San Luis Obispo; Chemistry
Tammy J. Dwyer, PhD, joined the faculty at the University of San Diego in 1994. She served as chair of the department of Chemistry and Biochemistry from 2001-2009. Dwyer is passionate about chemistry and enjoys teaching how theory and experiment blend to enhance our understanding of the physical world and of chemical phenomena. She strives to create a positive and relaxed classroom atmosphere to facilitate learning while setting high standards for her students and providing them with the tools to meet the course goals. She maintains an active research program involving undergraduates focused on using NMR spectroscopy and computational methods to study structure and dynamics in both small and large molecules.
Areas of Interest
Dwyer teaches a wide variety of chemistry courses including general chemistry lecture and laboratory, organic chemistry laboratory, analytical chemistry and instrumental analysis. She regularly teaches special topics courses that have included NMR spectroscopy, computational chemistry, and current topics in biological chemistry. Dwyer was awarded the 2001 Davies Award for Teaching Excellence.