Kristopher Hall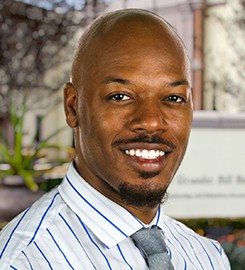 Phone:
(619) 260-4600 ext. 2680
Office:
Mother Rosalie Hill Hall 215H
Assistant Professor
PhD in Counselor Education
Kristopher G. Hall is a graduate of St. Augustines College (University, 2005) with a B.A. in Psychology and Seton Hall University (2008 and 2009) with degrees in Community Counseling and Ed.S. During his time in the field, Kristopher worked primarily with the Hudson County Child Abuse Prevention Center focusing on youth and family populations conducting individual and group counseling. During this time he also worked with college bound international students in the Bronx, NY, also interfacing with parents to prepare them for secondary education. Feeling a pull to academia and looking to make a bigger impact, he attended the University of Central Florida (2014), graduating with a PhD in Counselor Education. Currently employed as an assistant professor at the University of San Diego, Kristopher focuses on research in pre-service military populations, practical applications for Relational-Cultural Theory, and minority success in the counseling field. This has led to partnerships with the Government of the Bahamas overseeing group curriculum with students and working with RISE San Diego assessing trauma. Kristopher is student focused and active on campus, serving on several committees and participating in university initiatives including CEE Just Read campaigns and the Black Men's Collective.