Thomas Cleary
Senior Director
Thomas Cleary is liaison to elected officials, government agencies, neighbors, local community organizations and education associations for the university. He represents the university on community boards and works with state and national associations and coalitions on legislative issues that affect higher education policy and regulations. In his capacity as the public representative of the university, Tom serves as an ombudsman for those with concerns over noise, traffic and other campus-related activities. He assists with the planning and implementation of public relations strategies and policy initiatives.
The Office of Community and Government Relations also manages the USD Speakers Bureau, a free community service that connects off-campus organizations with outstanding authorities from the university faculty and staff on a variety of subjects.
Tom is a former three-term executive board member of the Linda Vista Town Council, a current vice-chair and a former past chairman of the Linda Vista Planning Board (which advises the city on local land use matters), and a former chair of the Linda Vista Collaborative (a network of local social service providers). Prior to joining USD in 2004, Tom was a public affairs consultant and served on the staff of various elected officials in federal, state and local government over a 20-year period. He holds a BA in political science from San Diego State University and has been a guest lecturer on the intricacies of lobbying public officials.
Contact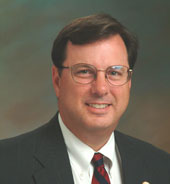 (619) 260-4659
Degheri Alumni Center 214
Download vCard