Bubbles for Peace: Inspiring Kroc School Interactive Mural Unveiled
Bubbles for Peace: Inspiring Kroc School Interactive Mural Unveiled
Friday, September 8, 2017
Imagine a peaceful, positive world in your mind. What would it look like to you? What would you do to bring your thoughts to life? How would you draw it?
All day Thursday and for minor touch-up work Friday morning, Kelsey Montague, an interactive mural artist from Denver, Colo., thought and then did just that. She turned a blank canvas attached to an outside left wall space of the Joan B. Kroc Institute for Peace and Justice building that faces the Garden of the Sea into a colorfully drawn vision of a world of hope, peace and positivity by way of "peace and justice symbols" within bubbles blown from a bubble wand.
"You have this notion of blowing bubbles and inspiring messages that are going out into the world, creating something for students and faculty to get out of the classroom and to come interact with it. The specific images highlight what the peace school is all about. I think it's a fun way to keep sharing what is uplifting and positive," Montague said.
A lifelong artist, Montague has been doing interactive murals and other artwork throughout the United States and internationally in Switzerland, Australia, Costa Rica and Argentina. Her newest piece at USD follows previous artwork done in San Diego at Horton Plaza Park and Seaport Village headquarters.
Montague's artwork was commissioned by the Kroc School of Peace Studies and its dean, Patricia Marquez, to celebrate peace and justice and to invite everyone, students and the community, to jump in and interact with the art.
"The current state of the world poses a collective challenge and an obligation to intensify our thinking and inspire action to shape a better world. This piece is part of our vision to prepare students," Marquez said. "To transform our societies, learning needs to engage all senses and should happen inside and outside of the classroom. The wall is meant to enhance the learning experience. The hope is that students will graduate and leave inspired to lead effective changemaking endeavors across a variety of sectors and organization types."
Montague appreciated her opportunity to contribute to the Kroc School's vision.
"What I love about working with the Kroc School is that they want to inspire, they want something that's outside of the classroom, and they support artists and creatives who are looking at the world differently," she said. "My artwork focuses specifically in communities around the world, highlighting different groups of people and giving people a voice through social media. This was a really good fit."
Each of Montague's art pieces are accompanied by the hashtag #whatliftsyou, her Instagram username @kelseymontagueart, and, specific to this piece, #krocschool. She encourages people to visit the art, take a photo and share it on their social media platforms and "to share something that's positive or impactful about their lives in a good way."
Spending time in San Diego, one of her favorite cities to visit, Montague said getting to create her artwork while in the Garden of the Sea area was a welcome change of pace.
"I'm usually drawing on a street corner with cars honking or I'm on a lift 70 feet up so this has been really nice. It's definitely peaceful and nice looking out at the city. it's such an oasis. And that's what I've always want my work to be — an oasis — so that when somebody steps up to it, they have just a moment for themselves. I feel if I can inspire one person with my art then I can call it a day. That's the whole point. I hope students and faculty enjoy it and that it adds to the really beautiful space the Kroc School has created here."
— Ryan T. Blystone
Photo courtesy of Renata Berto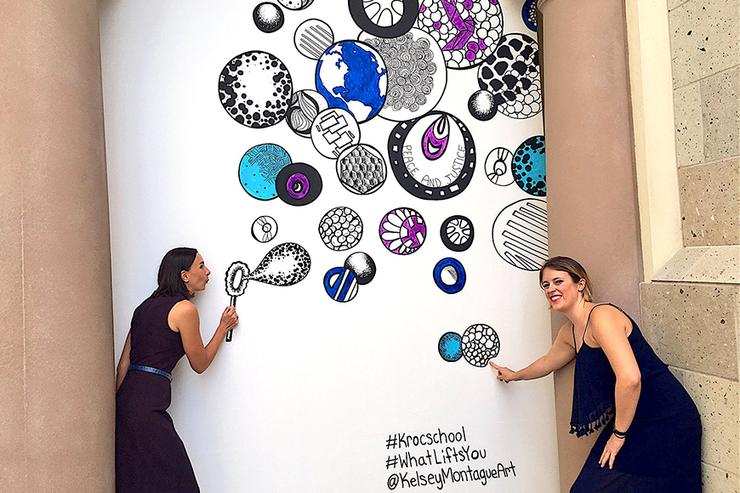 Changemaker Hub
5998 Alcalá Park
San Diego, CA 92110
Phone: (619) 260-4600