A Trip to the Dominican Republic Leaves a Lasting Impact for USD Students
A Trip to the Dominican Republic Leaves a Lasting Impact for USD Students
Thursday, November 5, 2015
Devyn Bryant has quite a few courses left to finish his degree. But during a January trip to the Dominican Republic to build stoves and install chlorinators in a rural town, he learned, perhaps, the most important lesson of all.
"Engineering is about using your specialized knowledge to benefit and improve the world around you," he said following the exhausting 11-day adventure to reduce deforestation, help prevent diseases like cholera and improve the lives of residents there.
For Danford Jooste '16, the takeaway was much the same. "I will draw from what I have learned from this trip in my career and everything that I do," he said.
Truc Ngo, assistant professor of industrial and systems engineering, led what was the first service trip in the history of USD's Shiley-Marcos School of Engineering. After a connection made through USD's Hahn School of Nursing and Health Science, Ngo, 17 students from USD, one from San Diego City College, and two engineering school staff members, flew to Santo Domingo and then took a four-hour bus trip to the remote and mountainous villages around El Cercado in the southern Dominican Republic.
There, they found villagers who were cooking their foods using open flame, which required a great deal of firewood and produced a great deal of smoke, causing respiratory problems, especially for the women cooking the food. The villages have also had several cholera outbreaks in recent years from drinking untreated water.
However in less than a week, students who each spent approximately $1,500 for travel and other expenses, worked 12-hour days to build 16 low-cost concrete and ceramic "rocket" stoves that will use less firewood and also installed two chlorinators to disinfect the drinking water supply for the mountainous villages.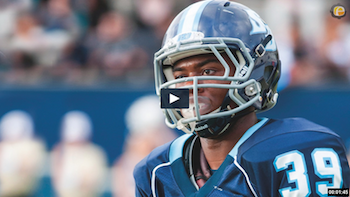 Watch a video on USD cornerback Devyn Bryant's experience, or read about it in USD Magazine.
"It was difficult to complete both projects," Bryant recalled. The students had to modify the original stove design, which was donated by someone else to the town, to improve the efficiency of the stoves. The group had to build the stoves within a limited time window due to weather condition requirements and limited availability of electricity. Installing the chlorinators was even harder.
"The physical layout of the reservoirs, the terrain and the community opinions all differed from place to place," Jooste explained. "A lot of time was needed to customize our design to that particular location. We expected the water to come down from the mountain at a constant rate. It turned out that one of the concrete reservoirs they had was being fed by a varying rate of water flow. Dealing with the damaged, leaking pipes was a setback at the other chlorinator site."
Much of the work taught the young engineering students valuable lessons in project management, teamwork and innovation that will serve them well in their careers. As the stove construction progressed, students learned to put them together in just two hours.
Jeremiah Medina and Faith Meade, who are working on an updated design for the stoves for their senior projects, also figured out a way to encase the inside of the concrete stoves with ceramic pots and other materials to produce more heat with less wood, Bryant said.
"I learned a lot about working in a team," Jooste said. "Much of our engineering curriculum is completed in groups but this project really taught me a lot more about the dynamics of working in a team. I think this experience will help me later in my career as I hope to do hands-on engineering, be it in development or in research."
"It was the experience of a lifetime," added Gezelle Keller, a junior in mechanical engineering. "We all had to learn to work diligently and be optimistic even if things did not go as planned." In one instance, for example, they dug down to a pipe, only to find a huge leak. "We had to fix that before we could even install the chlorinator," she said.
As is often the case when students visit developing countries, the trip reinforced their gratitude for how much they have here in the United States and have to offer to those less fortunate. "We have warm water to shower with and we don't have to rely on a crop yielding produce for our livelihood," Bryant said. "We have a luxurious life here and the trip has made me more aware of my blessings and grateful for the opportunities and talents I have been given. The trip makes me want to use my abilities even more."
Ngo, a leader in the school's efforts to advance sustainable and humanitarian engineering, said the students and two staff members, Executive Assistant Lorena Silvas and Lab Technician Sam Burt, can be proud of the work they accomplished. "It was a very successful and amazing trip for all of us." As Joane Peterson from the St. Pedro Parish in El Cercado said, "They are up to any challenge or adventure."
If students had any regrets, it was that they didn't have more time to see residents benefitting from their work. But Silvas, who provided translation from the Spanish used by residents, said their appreciation was clearly evident. The smoke from the old stoves often caused women's eyes to tear up as they prepared meals. But after using the new stove, one happily reported to Silvas that "my eyes didn't cry."
— Liz Harman
The cost of the trip to the Dominican Republic was more than $36,000. Professor Ngo, who hopes the school will do similar trips in the future, raised $5,100 from USD sources including the Shiley-Marcos School of Engineering, International Opportunity Grant, Changemaker HUB, Associated Students, and Provost's Enhanced Student-Faculty Interaction Grant. Through a family connection to participating student Nathaniel Magill, Father Sylvester Kwiatskowski of the St. Patrick Parish in Grass Valley, Calif., gave $500. To make a gift to support this and future service trips click here or contact Elisa Lurkis, director of development and alumni relations at elurkis@sandiego.edu.
Changemaker Hub
5998 Alcalá Park
San Diego, CA 92110
Phone: (619) 260-4600