Michael Lovette-Colyer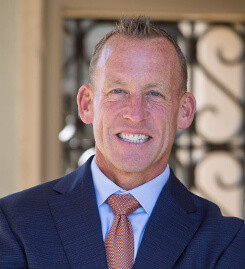 Office:
University Center 238C
Assistant Vice President, Director
PhD, University of San Diego, Leadership Studies

MBA, Santa Clara Univerity, Business Administration

MDiv, Jesuit School of Theology, Divinity

BSBA, John Carroll University, Finance
Hometown: Youngstown, OH
What did you do after college that led you to ministry at USD: After graduation, I spent a year as a Jesuit Volunteer in Santa Ana, CA. My placement was an emergency assistance provider, serving homeless families as well as those at risk of becoming homeless. After JVC, I spent a year living in Tijuana, Mexico.
When did you start working here? 2007
Primary Role/Programs that you assist with in UM: Men@USD Leadership Retreat, Tijuana Day Trips, Silent Retreat, and one-on-one pastoral counseling.
Hobbies: Watching European Soccer and spending time with my daughter.
Michael Lovette-Colyer has worked to articulate the richness and relevance of Catholic mission and identity in institutions of higher education for more than 15 years. In addition to leading teams and people to achieve priority objectives, the majority of his work has focused on creating contexts and programs which promote the faith formation of undergraduate and graduate students; designing, implementing and assessing programs that support the theological exploration of vocation; facilitating immersion experiences as well as meaningful reflection approaches to enhance those experiences; and supporting community-based learning.
Michael has served as the Director of University Ministry at the University of San Diego since 2007. In that role, he is most passionate about helping students ask big questions regarding how they will live authentically, guided by a sense of vocation, while offering their gifts in service of the world. He especially enjoys working with students on retreats as they strive to grow in their faith; make sense out of their busy, often fragmented lives; and discern their deepest desires. He also serves as an adjunct faculty member in USD's department of Theology and Religious Studies, teaching a section of Introduction to Catholic Theology each semester.
Prior to his service at USD, Michael spent eight years working on behalf of Santa Clara University in the office of Campus Ministry and the Ignatian Center for Jesuit Education. While at Santa Clara, Michael directed the DISCOVER Project, a university-wide initiative funded by the Lily-Endowment designed to engage the university community in the theological exploration of vocation.
He holds a Master of Divinity degree from the Jesuit School of theology at Berkeley, a Master of Business Administration from Santa Clara University, and a Bachelor of Science degree in Business Administration from John Carroll University.
Michael earned his PhD from the University of San Diego. His dissertation, titled "Cultivating Compassion in Undergraduate College Students: Rhetoric or Reality?" was published in the Journal of Catholic Higher Education. His most recent publication, "The Spirituality of Immersion: Compassion, Solidarity, Relationship," was published in Engaging Pedagogies in Catholic Higher Education in May of 2016.
Changemaker Hub
5998 Alcalá Park
San Diego, CA 92110
Phone: (619) 260-4600