UPCOMING EVENTS:
The Word That Clamors: Poetry as Prayer
with Malachi Black, Ph.D.

Date: Thursday, April 23, 2015
Time: 7-8:30pm
Location: Salomon Hall, Bishop Maher Hall, University of San Diego
Free of cost, open to all.

The great poet Mary Oliver describes the art of poetry as the "endless work of paying attention."  This seems also an apt definition for prayer.  Yet the importance of paying attention is so often lost on us with the busyness and quickening pace of everyday life.  Perhaps a deeper appreciation for poetry can help us be better prayers, more attentive to our own lives, each other, and God.
Malachi Black, an award winning poet and Assistant Professor of English and Creative Writing at USD, will offer insight into how poetry can help us get in touch with our deepest yearnings, wake us up, and deepen our understanding of our spiritual lives.  He will select readings from some of his favorite poets as well as offer readings from his most recent publication, Storm Toward Morning.

Click here to RSVP

PAST EVENTS:
Spring 2014:
Romero Week 2015
Love Must Win Out:
Remembering Archbishop Oscar Romero's Life and Legacy
Tuesday, March 24th at 7:00pm in the KIPJ Theatre.*
Kevin Clarke, senior editor of America  magazine, will speak on the Life and Legacy of Salvadoran Archbishop Oscar Romero in honor of the 35th anniversary of Romero's martyrdom. Clarke is the author of a recent biography of Archbishop Romero, Oscar Romero: Love Must Win Out, published by Liturgical Press as part of their "People of God" series.

Clarke will be joined by panelists, Dr. Patricia Marquez, Dean of the School of Peace Studies, and Father Peter Gyves, SJ, Associate Pastor of Our Lady of Guadalupe Parish in San Diego. This panel is particularly timely in light of the Vatican Commission's recent designation of Archbishop Romero as a martyr for the faith, an important step on the way to sainthood.

Wednesday, March 25th at 9:00pm in Founders Chapel, Founders Hall.*
The Mass for Peace will be offered in remembrance of Archbishop Romero.

Thursday, March 26th at 5:30pm in Salomon Hall, Bishop Maher Hall.*
The documentary Monseñor: The Last Journey of Oscar Romero will be shown, followed by guided discussion. The film contains rare recordings and film footage including Romero's moving last homily before he was killed, calling for the Salvadoran soldiers to stop the killing.

Event series sponsored by the Frances G. Harpst Center for Catholic Thought and Culture and the Center for Christian Spirituality.

*All events are free of cost and open to all.


A Charism of Compassion:
Lenten prayer inspired by the Society of the Sacred Heart
with Mary Pat White, RSCJ

Date: Wednesday, February, 25, 2015
Time: 7-8:30pm
Location: Salomon Hall, Bishop Maher Hall, University of San Diego
Free of cost, open to all.

Co-sponsored by The Karen and Tom Mulvaney Center for Community, Awareness and Social Action

Mary Pat White, RSCJ, Vocation Director for the United State-Canada Province of the Society of the Sacred Heart, will offer an evening of Lenten prayer and reflection.  Along with Sr. Sally Furay & Mother Rosalie Hill, Sr. Mary Pat is a member of the founding order of the San Diego College for Women, the precursor to USD.  Members of the Society of the Sacred Heart describe their lives as "wholly contemplative and wholly apostolic," or simply put, they seek to integrate their ardent prayer lives and their ministries to educate and transform the world.  Sr. Mary Pat will share wisdom from the charism of the Society of the Sacred Heart, practical tips for how to live with this balance, and lead the group in quiet reflection, prayer and group sharing.
click here for flier of event
Fall 2014:
"Contemplation and The Cloud of Unknowing: Meditation in the Christian Tradition"
William Meninger, OCSO
Trappist monk and teacher of Centering Prayer

Wednesday, November 19, 7pm, Founders Chapel
Free of cost

When Father William Meninger encountered a dusty little book in the abbey library called The Cloud of Unknowing, he was delighted at what he discovered.  The anonymous 14th century book presented contemplative meditation as a teachable, spiritual process enabling the ordinary person to enter and receive a direct experience of union with God.  Written by a monk with practical advice for ordinary people, this spiritual classic maintains its relevance for anyone seeking to learn more about meditation and prayer.  Consider joining us afterwards for Mass for Peace in Founders Chapel at 9pm.

Father Meninger is a Trappist monk and retreat master at St. Benedict's Monastery in Snowmass, Colorado.  He takes a limited time each year from his silent monastic life to travel the world and teach contemplative prayer.  His book, The Loving Search For God is an effort to bring the message of The Cloud of Unknowing to men and women of the 21st Century.  He is also known for his books on forgiveness and the Enneagram.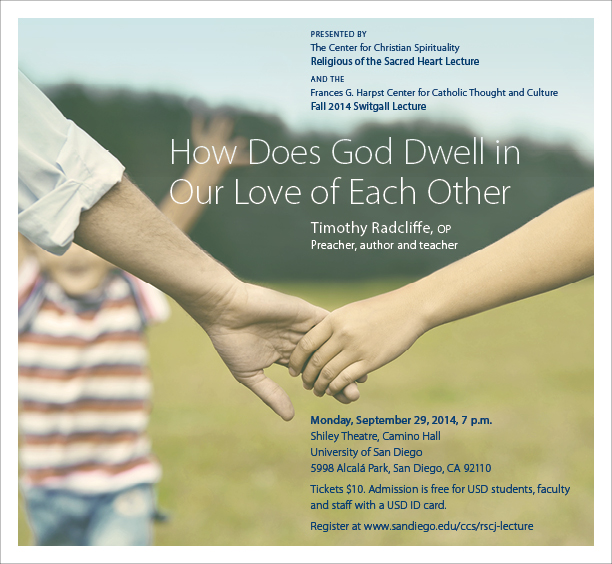 "The Spirituality of Leadership: Franciscan Models of Leading with the Heart" with Darleen Pryds
Pope Francis follows in a very long tradition of men and women who have guided and inspired others in faith. This presentation explores how Franciscan Spirituality, focused on the incarnation and respect for all of creation, including a mutual respect among people, has inspired important leaders--both men and women--to influence, teach, and lead from the heart. Come learn some tips on heart-based leadership.
Darleen Pryds is Associate Professor of Christian Spirituality and History at the Franciscan School of Theology, now in curricular affiliation with the University of San Diego. Her research interests include the history of Lay Preaching and Women's Leadership in the Franciscan tradition. In her spare time she is a volunteer at Zen Hospice Project and is an ardent hiker.

Tuesday October 14, 2014 at 7pm
Salomon Hall, located inside of Bishop Maher Hall at the University of San Diego
Spring 2014: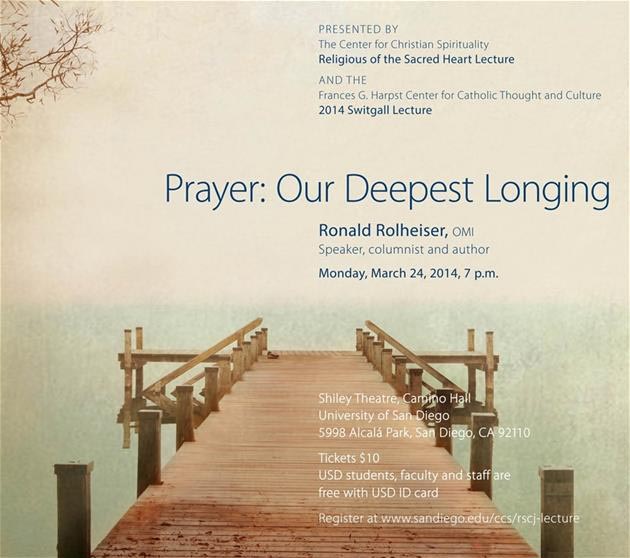 Tickets are available for purchase at the door. $10 cash or check made payable to "USD"
One Border, One Body: Immigration and the Eucharist
with Daniel G. Groody, CSC, Ph.D.
Saturday, March 8, 2014
Location 1:
St. Thomas More Catholic Parish
1450 South Melrose Drive
Oceanside, CA 92056
from
9:00 - 11 am
Location 2:
University of San Diego
5998 Alcala Park
Mother Rosalie Hill Hall, Warren Auditorium
San Diego, CA 92110
from
2 - 3:30 pm
Spirituality and Life Choices: The Practice of Discernment
A Retreat for Young Adults
When: January 11, 2014, 10am-4pm *RSVP by January 3, 2014
Where: *LOCATION CHANGED TO SALOMON HALL, located inside Bishop Maher Hall* (no longer in Hahn University Center, Forum C)
Fee: Cost : $30 per person, lunch included

Retreat presenters:
Kathy McGrath, RSCJ; Spiritual Ministry Center
Stephany Veluz, RSCJ; Spiritual Ministry Center
Mark Peters; University Ministry
Cara McMahon; Center for Christian Spirituality

Supported by the Spiritual Ministry Center
Fall 2013:
"Which Way Home" Film followed by discussion.

This Social Issues Conference Event co-sponsored by Council for the Advancement of Catholic Social Thought, the Center for Christian Spirituality, Center for Community Service Learning, Social Issues Conference Committee and the Changemaker Hub.

When: November 21, 2013, 6pm-8pm.
Where: School of Leadership and Education Studies (SOLES)
Mother Rosalie Hill Hall, Warren Auditorium
Discussion to follow with special guests:
Beatriz Lopez
Education Program Director, Southwest Key Programs
Carmen M. Chavez, Esq.
Executive Director, Casa Cornelia Law Center
The film follows several unaccompanied child migrants as they journey through Mexico en route to the U.S. on a freight train they call "The Beast." Director Rebecca Cammisa (Sister Helen) tracks the stories of children like Olga and Freddy, nine-year-old Hondurans who are desperately trying to reach their families in Minnesota, and Jose, a ten-year-old El Salvadoran who has been abandoned by smugglers and ends up alone in a Mexican detention center, and focuses on Kevin, a canny, streetwise 14-year-old Honduran, whose mother hopes that he will reach New York City and send money back to his family. These are stories of hope and courage, disappointment and sorrow.
They are the ones you never hear about – the invisible ones.
In collaboration with the 24th Annual Social Issues Conference we will be hosting a workshop with Dr. Alex Mikulich, Ph. D. , Loyola University New Orleans, Jesuit Social Research Institute. (click on name for biography)
"Let the Oppressed Go Free:
A Personal and Social Reflection on White Complicity in U.S. Hyper-incarceration"
When: Thursday, November 14, 2013 from 7-9pm
Where: Salomon Lecture Hall, Bishop Maher Hall
Fee: Free

 "The Spirit of the Lord is on me, because he has anointed me to proclaim good news to the poor. He has sent me to proclaim freedom for the prisoners and recovery of sight for the blind, to set the oppressed free, to proclaim the year of the Lord's favor." (Luke 4:18-19)

This lecture will discuss the disproportionate imprisonment of people of color and how the examination of white privilege with regard to hyper-incarceration will help white people to 'understand the walls we have built around ourselves and how our liberation is inextricably interwoven with the freedom and justice for people of all colors.... Shedding light on the possibilities for new ways of being Church and transforming society through nonviolent resistance.' (The Scandal of White Complicity in US Hyper-Incarceration: A Nonviolent Spirituality of White Resistance, Foreward, Sr. Helen Prejean) In this examination, Church is challenged to USD's Social Issues Conference theme of, "From the Margins to the Center" and the possibilities for Church through an inclusive and just society.
Spring 2013:
SPIRITUALITY AND HEALTH CARE:
"Illness is a spiritual event. Illness grasps persons by the soul
as well as by the body and disturbs both." - Daniel Sulmasy
An Introduction to Spirituality in Health Care:
Please join us for a morning focused on the impact and benefit of spirituality and its practice for those who struggle with illness and those who care for them. At some point and time in our lives we have been, or will be, faced with the challenge and opportunity to explore how spirituality can enrich and comfort our experience of illness whether based on our own health or as one who cares for another. Please join us whether you are a health care professional, caregiver, Chaplain, Clergy member, loved one of someone who is ill or one who holds a curiosity or desire to examine spiritual development from this context of life's journey.
Presenters:
Margaret E. McCahill, M.D.
Physician, University of San Diego Wellness Services
Adjunct Clinical Professor, USD Hahn School of Nursing and Health Science
Health Sciences Clinical Professor of Family Medicine and Psychiatry, UCSD School of Medicine
Chaplain John Gillman, Ph.D.
ACPE Supervisor
VITAS Innovative Hospice Care
When: Saturday, May 4, 2013, 8:30 am - 12:30 pm
Where: The University of San Diego Hahn School of Nursing
and Health Science – Palmer Hall (Rm 106)
Cost: $15, light breakfast will be provided.

Download the powerpoint .PDF's from Dr. McCahill
Download the .pfd's on Koenig on research and evidence

To register online or more information please visit:http://sandiego.kintera.org/ccs or call 619-260-4784
Vatican II: The Battle for Meaning
Presented by the Frances G. Harpst Center for Catholic Thought and Culture in collaboration with the Center for Christian Spirituality.
Tuesday, April 23, 2013
6-7:45pm
Warren Auditorium
With a reception to follow.
This event is free and open to the public.
Please RSVP by emailing cctc@sandiego.edu.
Every change of pontificate – from John Paul II to Benedict XVI to his successor - constitutes an important element in the broad theological and cultural landscape of Catholicism. These last two changes of pontificate have also nourished the journalistic and political dispute about Vatican II, its history and its legacy, and not only the historiographical and theological debate. For 21st century Catholics and theologians interested in understanding contemporary Catholicism in the light of Vatican II the intellectual undertaking is far from accomplished yet. One or another interpretation of Vatican II is always – explicitly or implicitly – part of the agenda of Catholicism: to understand Vatican II is essential in order to understand where Catholicism is going.
Massimo Faggioli, PhD worked in the "John XXIII Foundation for Religious Studies" in Bologna between 1996 and 2008 and received his Ph.D. from the University of Turin in 2002. He has studied theology at the Karl-Eberhards-Universität Tübingen (1999-2000) and has been invited to work as a post-doctoral researcher in the Faculté de Théologie et Sciences Religieuses at the Université Laval, Québec (Spring 2002).
He moved to the US in 2008, where he was visiting fellow at the Jesuit Institute at Boston College between 2008 and 2009. Dr. Faggioli is now assistant professor in the Theology Department of the University of St. Thomas in St. Paul (Minnesota). He lives in the Twin Cities with his wife and their little daughter. He writes regularly for Italian and American newspapers and journals on the Church, religion and politics.
Among his publications
The history of the document on the bishops of Vatican II (Il vescovo e il concilio. Modello episcopale e aggiornamento al Vaticano II, 2005), the first book on Vatican II that made use of the archival sources in the Vatican Secret Archives
The edition of the diaries of Angelo Giuseppe Roncalli (later John XXIII) during his diplomatic mission in Bulgaria (Tener da conto. Agendine di Bulgaria 1925-1934, 2008)
A brief history of the "new Catholic movments" (Breve storia dei movimenti cattolici, 2008; Spanish translation 2011, English translation forthcoming by Palgrave and Macmillan)
Vatican II: The Battle for Meaning (2012; Italian translation and Portuguese translation, 2013)
True Reform. Liturgy and Ecclesiology in "Sacrosanctum Concilium" (Collegeville: Liturgical Press, 2012; Italian translation, 2013, forthcoming).
Contemplative Prayer with Fr. Martin Laird, O.S.A.
Martin Laird, an Augustinian priest at Villanova University, teaches the ancient Christian practice of contemplative prayer in order to "quiet the mind" and have a deep awareness of union with God. He has authored Into the Silent Land: A Guide to the Christian Practice of Contemplation and more recently, A Sunlit Absence: Silence, Awareness, and Contemplation.
When: Saturday, April 13, 2013 from 8:30 a.m. - 3:00 p.m.
Where: All Hallows Catholic Church
6602 La Jolla Scenic Drive South
La Jolla, Ca 92037 (click on address for directions)
(Hall facilities will be used, park in the parking structure BEFORE the Church)
Cost: $30 per person. Light breakfast included.
Please bring a sack lunch, as one will not be provided.
*Fr. Martin Laird, O.S.A.'s books will be available for purchase for $18.95 each. Cash or Check only.
To purchase his books online visit Oxford University Press here:
Martin Laird
The Hustler Priest: A Spirituality of Service
A Conversation with Fr. Joe Carroll, Founder of Fr. Joe's Villages
Matthew 25: "Then they will answer and say, 'Lord, when did we see you hungry or thirsty or a stranger or naked or ill or in prison, and not minister to your needs?' He will answer them, 'Amen, I say to you, what you did not do for one of these least ones, you did not do for me."
Using reflections from his own life experience, everybody's favorite 'hustler priest,' Fr. Joe Carroll will bring to life the call to serve that Jesus challenges us with in Matthew 25. Join us as we grow in our capacities to love others and serve others.
When: Thursday, March 7, 2013 from 7:00 - 9:00 pm
Where: Salomon Lecture Hall, Bishop Maher Hall, USD
Free event for all. Kindly RSVP by March 4th.

Supported by the Office for Social Ministry of the Diocese of San Diego
Co-sponsored by the Social Justice Living-Learning Community at USD

Fall 2012:
Ignored Scriptures: Discerning and Proclaiming the Word.

A Reflection for Lectors, Bible Study Groups, and the Inquisitive with Reverend Canon Jack Lindquist.
A time to reflect on liturgical readings as significant and central experiences of liturgy. This event seeks to affirm how the ministry of proclaiming the Word can move 'ignored' biblical readings to a heightened and new understanding for the Church. Come and unfold your gifts for proclaiming the Word.

Reverend Canon Jack Lindquist is a dynamic and entertaining speaker. He is the Canon for Biblical Studies at St. Paul's Episcopal Cathedral. He is also adjunct professor in Theology and Religious Studies at USD.

*We are requesting that you have and bring the 2013 Workbook for Lectors, Gospel Readers, and Proclaimers of the Word (ISBN 978-1-56854-975-0 [8 3/8 x 10 7/8, softcover]) Please read pages 1-48.*

When: Saturday, November 17, 2012 from 8:30-11:30 a.m.
Where: Solomon Lecture Hall, Bishop Maher Hall, USD
Fee: $15 per person, includes a light breakfast. Kindly RSVP by November 13.
Franciscan Spirituality of Letting Go
with Fr. Larry Dolan, O.F.M.
As we celebrate the feast of St. Francis in the month of October, we take the opportunity to explore the biblical background that led to Francis of Assisi's vision of poverty; seen as a letting go of self, possessions, will, power and wealth. Gather with us as we examine St. Francis' vision of poverty to live simply and to realize the Kingdom of God.
Fr. Larry Dolan, O.F.M., is a sought after speaker and guest who joined the Franciscan Order after having served as a priest in the Diocese of San Diego for a number of years. Presently he is stationed at Old Mission San Luis Rey in Oceanside, CA.
When: Saturday, October 6, 2012 from 8:30-11:30 a.m.
Where: Warren Auditorium, Mother Rosalie Hill Hall, USD
Fee: $15 per person, includes a light breakfast
Kindly RSVP by Wednesday, October 3, 2012.
Spring 2012:
Leadership in the Parish
THE CATHOLIC PARISH: TOWARD A FUTURE OF HOPE
An opportunity for pastors and parish leadership to reflect on the vision of the local Catholic parish. How is the parish the expression of the Church, how does the parish help to realize the presence of Jesus in our lives, what sustains us in dedication to this local Christian community, what are the hopes and vision that draw us forward with hope. Reflection on the Church and local parish from USD's Professor Mary Doak, shared insights from pastors and parish leaders, opportunities to share best practices.

When: Saturday, April 28, 2012. 8:30 a.m.-12:30 p.m.
Where: Solomon Lecture Hall (Bishop Maher Hall)
Fee: $20 per person. Coffee and box lunch included
For professional and family caregivers
CARE OF THE SICK, CARE OF THE CAREGIVER
This time together offers an opportunity for professional and family caregivers to step back for a moment

• to reflect on the way in which our care for the sick and elderly reflects the compassion and love that Jesus showed for those with hardships, to see that our care for physical needs extends to the spiritual needs of those for whom we offer care.
• to acknowledge that we as caregivers need to care for our own physical and spiritual needs so that we are sustained in our sometimes difficult task.

USD Professor of New Testament, Florence Gillman, Ph.D. will lead a reflection on Jesus' care for the sick as a deep and active concern for both the spiritual and physical needs of the brother or sister - followed by discussion of our experience of the challenges and opportunities as professional or family members.

John Gillman, Ph.D., Supervisor of Clinical Pastoral Education for VITAS Innovative Hospice Care, will explore the implications for the caregiver – sustaining a joyful and generous spirit , sources of encouragement, need for respite and perspective, acknowledgement of limits, collaboration with other family members and professionals - all topics for discussion and shared experience.
The time together will also include reflection, a sharing of resources, morning coffee, and a light lunch.

When: Saturday, February 25, 2012. 9:00 a.m. – 1:30 p.m.
Where: Salomon Lecture Hall, Bishop Maher Hall, USD
Fee: $25 per person, light breakfast and lunch.

For more information or to register please contact us at: 619-260-4784 or ccs@sandiego.edu.

View pictures of the event 
Companions at the Table
PRAYER ON THE JOURNEY OF LENT TOWARD EASTER
(*This event was cancelled. We apologize for any inconvenience. )

At the beginning of Lent, reflection, encouragement, and experience of Christian prayer. Gathered at table, food for the body and the spirit in shared fellowship and conversation with Msgr. Daniel Dillabough, USD's vice-president for Mission and Ministry.
Contemplation in the Marketplace
The Center for Christian Spirituality is pleased to welcome Fr. William Meninger, a Trappist monk. In 1963 Fr. William entered St. Joseph's Abbey in Spencer, Massachusetts. While there he developed a contemplative prayer method based on the 14th-century classic treatise The Cloud of Unknowing. It has led to a prayer method called Centering Prayer. Fr. William moved from St. Joseph's Abbey to St. Benedict's, Snowmass, Colorado Monastery in 1979, where he has served as prior and novice director. His books include works on various religious themes, including a commentary on The Cloud of Unknowing. He gives retreats, lectures and workshops on centering prayer, forgiveness, and the enneagram in the US and abroad. We hope you can join us.

When: Saturday, February 4, 2012, 9:00 a.m.- 11:00 a.m.
Where: Room 103 A/B, Hahn University Center, USD
Fee:$10 per person, includes a light breakfast.

For more information or to register please contact us 619-260-4784 or ccs@sandiego.edu
Service and Hospitality in the Local Church
A Day of Reflection and Shared Experiences
The Center for Christian Spirituality at the University of San Diego is offering a day of prayer, reflection, and shared experience for parish secretaries, bookkeepers, receptionists, and business managers. Reflections on the spiritual context of service to the parish community will be offered by Sr. Carlotta DiLorenzo, CSJ, director of the Permanent Diaconate program of the diocese. Fr. John Keller, OSA, will facilitate the sharing of experiences and personal reflection. Mass in Founders Chapel.

When: Thursday, January 12, 2012. 9:00 a.m. – 2:00 p.m.

Where: Forum C, Hahn University Center, USD
An Advent Reflection:
Giving an Explanation For Our Hope
Presented by Rev. John O'Brien, CSSp
Fr. John O'Brien, CSSp, is a Visiting Fellow at the University of San Diego's Center for Catholic Thought and Culture. He has presented the inaugural Emile Switgall Lecture, "Christian-Muslim Dialogue from Below: Spiritan Perspectives from Pakistan," based upon his ongoing experience in Pakistan in ministries with housing cooperatives, adult education, youth work and pastoral ministry especially among urban "sweepers."

Since his arrival on campus he has met with faculty, student groups, and presented in the Explorations in the Catholic Intellectual Tradition series on the topic, "Solidarity and the Option for the Poor."
As we approach Advent, the Center for Christian Spirituality invites you to join Fr. O'Brien to share his reflections on the encouragement of St. Peter's first letter (1 Pet. 2:15):

"Always be ready to give an explanation to anyone who asks you for a reason for your hope."

The presentation will include breakfast in the University's dining room, La Gran Terraza, and the Saturday date will offer accessible parking. We hope you can join us for this opportunity to deepen our understanding of Christian hope.

When: Saturday, November 12, 2011, 8:30 a.m.-10:30 a.m.
Where: La Gran Terraza, Hahn University Center, USD.
Thank you to those of you who were able to join us on that rainy morning.
The spiritual life does not remove us from the world but leads us deeper into it. Henri J.M. Nouwen