The university's most selective vocal ensemble affords exciting opportunities for academically and musically gifted singers. The Choral Scholars receive substantial scholarships, perform in some of the most beautiful venues in the world, and create lasting memories while honing their musical skills.
Director Edwin Basilio, Ed.D. leads 50-minute rehearsals each day to keep the Scholars in high demand. Thanks to their hard work, the elite singers are regularly invited to perform at a number of on and off-campus events as well as internationally. The vocalists said the opportunity to sing overseas is one of the highlights of the program.
"Performing abroad is an incredibly moving experience," Shannon Cajka '11 said. "Music transcends language, so you are able to make a connection with your audience even if you wouldn't be able to say three words to them in conversation."
According to Basilio, European tours are an important learning experience for those involved.
"All tours are an important learning and growing experience for the students, Basilio said. "We travel together on a bus throughout a given country and perform several concerts along our journey. Additionally, we attempt to work in visits to historically significant venues so that we learn about different cultures, heritages and experiences."
"I am always impressed with the performance level of our singers and also deeply moved by their courteous and professional behavior when traveling abroad. They do a fantastic job representing the students of the University of San Diego."
Edwin Basilio, Ed.D
In recent years, the Choral Scholars have toured Italy, France, Poland, Hungary and the Czech Republic. This spring, they will travel to St. Petersburg, Russia. According to alumnus Gabriel Hanna '10, the tours helped illuminate his studies.
"Traveling and singing in countries such as Italy, Poland, Czech Republic, France, Portugal, Germany and Austria has given me knowledge of societies, traditions and cultures that will help me tremendously in political science," Hanna said.
Unlike vocalists in comparable ensembles at other universities, Hanna was allowed to major in political science, rather than music. While all Choral Scholars are required to earn a music minor, the option to choose a non-performance major is one that many appreciate.
"I chose to sing here for that exact reason," said Cajka. "I knew I didn't want to be a musician because of its unstable professional nature, but I couldn't imagine not singing."
"It is very rare to find a music scholarship program that allows you to major in something other than music. I am a double major in accounting and art history, but I still got to pursue my love of music and performance during college."
Kate Christman '11
"It is very rare to find a music scholarship program that allows you to major in something other than music," Kate Christman '11 said. "I am a double major in accounting and art history, but I still got to pursue my love of music and performance during college."
According to Basilio, the group maintains a membership of 12 to 14 singers per year. New applicants are selected based upon musical skill, academic performance and the ability to blend with existing members. Throughout the extensive, multi-level selection process, Basilio looks for musicians who can acquire and apply skills quickly.
"There are a lot of factors that are part of the audition. Just having a pretty voice is not nearly enough to be successful in USD's Choral Scholar Program," Basilio said.
Members agree that the rigorous selection process is necessary to maintain the strength of an ensemble of this size.
"It is a very small group," Christman said. "This means you are often singing with only one or two people per voice part. It takes a strong musician to be able to hold their own vocally in that type of situation while still being able to blend with the other members of the choir"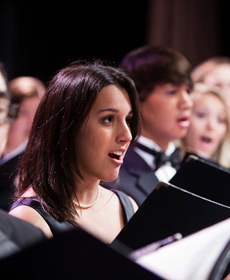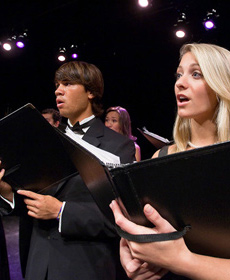 "Performing in Europe specifically is an incredible experience because of the venues you have the privilege of performing in. When you sing the songs in a beautiful cathedral the acoustics take the piece to a whole new level- singing them in a practice room or at a concert back in San Diego will never compare."
Shannon Cajka '11
For the few who make the cut, the Choral Scholars Program requires teamwork and motivation. Participants agreed that a high caliber of work is expected from each vocalist in order to keep the ensemble performing at its best.
"As a Choral Scholar I've learned what the word 'dedication' really means," Cajka said. "Being a part of such a small choir requires every member to be 100 percent present, prepared and positive 100 percent of the time."
"Four years of being in a challenging, tight-knit group like that can be difficult," Christman said, "but it taught me a lot about working in groups and as a team, and also how to lead effectively and represent the university with poise and grace."
Basilio said he is impressed with the quality of performance and professionalism exhibited by the Choral Scholars. A man who values hard work, he said his greatest hope is to impress upon his students both a love and appreciation for choral art and the need to rehearse with high levels of intensity and attention to detail.
"Though we all know there is no such thing as a perfect performance, it's a joy to work with students who desire to learn and perform choral literature as perfectly as humanly possible," Basilio said.
- Anne Malinoski '11