Clara Oberle, PhD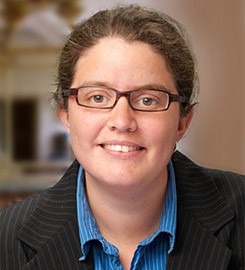 Office:
Kroc Inst for Peace & Justice 278
Associate Professor, History
Ph.D., Princeton University, History

M.A., Princeton University, History

B.A., Wellesley College, History and Religion

Music education through Massachusetts Institute of Technology

Graduate work, Freie Universität Berlin, History and Political Science
Clara M. Oberle, PhD, has been a member of the History department since 2008. She offers courses on modern Europe, Eastern Europe, and Germany. Further teaching interests include World War II, women in history, and urban history. Her research focus is on Berlin, on post-catastrophe cities, and on German history, with special interests in migrations, comparative military occupations, urban planning and housing, as well as the interplay between law and memory.
Areas of Expertise
Scholarly Work
Oberle's research has focused on transitions from war to peace and in particular the history of immediate postwar Berlin. Her dissertation work, City in Transit: Ruins, Railways, and the Search for Order in Berlin, 1945-1947 was honored with a postdoctoral fellowship at the Remarque Institute of New York University where she was able to examine postwar spatial, legal, as well as social re-organizations in a comparative way. Her research takes her to archives in Germany, France, Britain, the US, and Russia. Oberle has presented papers on topics ranging from rubble housing to public health and epidemic debates, railroads, planning utopias, population transfers, as well as racism and black markets. Her work has led her to investigate architectural debates, legal policies, changing family relations, as well as the negotiations over memory in immediate postwar scenarios. She has given talks in Asia, Europe, and North America and is an active panelist and contributor with the American Historical Assosication, the German Studies Association, as well as the International Organization of Historians of World War II. Her current work examines the interplay between law, welfare, and memory.
Areas of Interest
Oberle teaches a variety of courses at USD, from introductory surveys in Modern European history to upper division courses and graduate seminars on the histories of postwar Germany, modern Eastern Europe, the experiences of World War II, or Fin-de-Siècle Vienna. Further courses may include topics such as ethnic cleansing and migrations in modern Europe. Oberle has participated in interdisciplinary collaborations and has been engaged in the efforts to internationalize learning at the University of San Diego. She has enjoyed advising several students' interdisciplinary projects which connected fields of history with Philosophy, Art History, and Political Science. She has also been involved in classes outside her department, including an art history course on Socialist Art and Culture. Oberle is currently also working on expanding the USD study abroad program to include classes in Berlin and Central Europe.