Dr. Elizabeth Baker-Treloar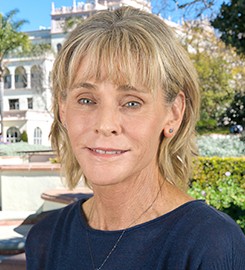 Office:
Shiley Ctr for Science & Techn 264
Associate Professor
Adjunct Assistant Professor and Field Trip Coordinator
Master of Science, Oceanography 1995 (emphasis in marine geology)

Master of Science, Geology 1993 San Diego State University

Bachelor of Science, Geology 1982 San Diego State University

 
Liz Baker-Treloar has been a member of the Marine Science Environmental Studies Department since Fall of 1995. Baker-Treloar has taught undergraduate courses and labs in physical oceanography, natural disasters, and earth science. In addition to teaching undergraduate courses, Baker-Treloar is the department field trip co-ordinator. As the field trip co-ordinator Baker-Treloar is logistacal support to faculty and students for day field trips as well as overnight camping events and the department 24 hour Sproul cruise.
Areas of Interest
Baker-Trealoar has been instrumental in creating a new Natural Disasters lab that began in the Fall of 2010. Also in the Fall 2010 semester Baker-Treloar became a preceptorial professor for the Marine Science and Environmental Studies Department.