LeeAnna Chapman, PhD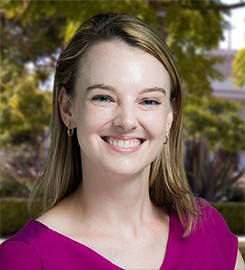 Phone:
(619) 260-4600 ext. 2441
Office:
Shiley Ctr for Science & Techn 250
Adjunct Assistant Professor, Environmental and Ocean Sciences
Ph.D., North Carolina State University, Marine, Earth, and Atmospheric Sciences (Geology concentration)

M.S., North Carolina State University, Marine, Earth, and Atmospheric Sciences (Atmospheric Science concentration, GIS Graduate Minor)

B.S., North Carolina State University, Natural Resources: Ecosystems Assessment
LeeAnna Chapman, Ph.D., joined USD faculty in fall 2017. She teaches courses in natural disasters, earth science, and environmental geology. Chapman's research topics include geoscience education, nutrient cycling, and earth systems modeling.
Areas of Expertise
Earth science; geoscience education; GIS; nutrient cycling
Scholarly Work
Dr. Chapman is a broadly trained earth scientist; her research and teaching span multiple areas. Her doctoral work focused on educational research assessing experiences that best prepare geoscience graduate students and post-doctoral scholars to be effective future professors. This work involved a mix of qualitative and quantitative research methods (surveys, interviews and case studies) that targeted more than 600 graduate students and post-docs across the country. Dr. Chapman's master's work centered on earth systems modeling using GIS, particularly the nitrogen cycle across the continental U.S.
Dr. Chapman was heavily involved in the InTeGrate project (http://serc.carleton.edu/integrate/) developing innovative new geoscience curricula that promotes geoscience systems thinking in the context of societal issues. Dr. Chapman worked directly with teams of faculty from multiple institution types to create modular online resources to support the teaching of introductory geoscience and environmental science courses. She provided guidance to dozens of faculty to develop, implement, and evaluate course materials that incorporate effective teaching strategies shown to improve student learning.
Areas of Interest
Dr. Chapman has taught a range of courses including physical geology, atmospheric science, and computer science. Sheenjoys providing students with the scientific knowledge and skills needed to critically question, evaluate, and make decisions that are important for them and for their community. By teaching about the inter-connectivity between Earth and society, she hopes to inspire an appreciation of the role we play in the earth system. Dr. Chapman strives to create a classroom environment where all students feel comfortable participating in class and asking questions.