Marlene Brito-Millan, PhD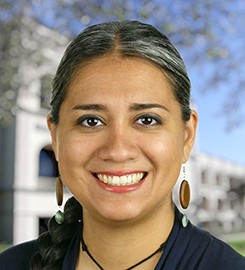 Phone:
(619) 260-4600 ext. 2450
Office:
Shiley Ctr for Science & Techn 250
Postdoctoral Fellow, Environmental and Ocean Sciences
Dr. Brito-Millan was awarded the competitive USD Diversity Post-Doctorate Fellowship to conduct research and teach at USD. She comes to us from the Scripps Institution of Oceanography. As an ecologist who studies the interaction between natural marine systems (coral reefs) and societies, her research links science to other disciplines in the liberal arts. Her Ph.D. research focused on these linkages in the context of an indigenous Micronesian community. Given her interdisciplinary focus, she may promote connections between EOSC and other departments in the College (around themes like environmental and climate justice, socio-ecological systems (including coral reef systems), human-environmental history, decolonizing methodologies, and sustainability) and be a catalyst for more interdisciplinary research, discussions, and courses. She has co-taught a course at UCSD in Science and Critical Analysis of Environmental Justice, teaching at the interface of Ethnic Studies and Biological Oceanography.