Drew Talley, PhD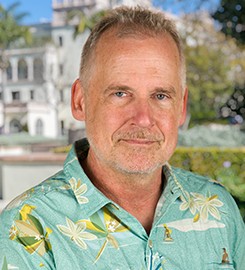 Office:
Shiley Ctr for Science & Techn 266
Associate Professor, Environmental and Ocean Sciences
Ph.D., University of California San Diego, Scripps Institution of Oceanography; Biological Oceanography

B.Sc., San Diego State University, Biology
Drew Talley, PhD, teaches a variety of courses including Introduction to Physical Oceanography, Biological Oceanography, Graduate Statistics and Experimental Design, and Life in the Ocean. His overall research focuses on understanding connectivity across habitat boundaries, and assessing how that interdependence between systems changes with anthropogenic influence both locally (e.g., through habitat loss) and globally (e.g., through climate change).
Areas of Expertise
Scholarly Work
Talley's research focuses on elucidating the mechanisms and generalities behind habitat linkages, and integrating these connections into studies of coastal ecosystems. Examples include research focused on the connectivity of habitats in southern California estuaries; the effects of global climate change on estuarine food webs in the San Francisco estuary; connectivity at the land-sea interface in the Gulf of California; food web dynamics in coastal systems of northern Baja California, and the ecosystem-level impacts of species invasions in southern California. Throughout all of his research, Talley deeply integrates education and applied conservation biology into his fundamental science questions.
Talley has published numerous papers and book chapters, and has been the recipient of grants from CA Sea Grant, UC Mexus, and the National Science Foundation, among others.
Areas of Interest
Talley's philosophy of teaching parallels his research philosophy – students thrive under a system that is multidisciplinary, allowing them to use traditional classroom-learning methods coupled with field and laboratory work, so that they come to an understanding of a topic from multiple angles. This is particularly important (and appropriate) in ocean sciences and ecology, where interdisciplinary techniques are not only helpful, but often necessary. In all of his classes, he strives where possible to integrate hands-on activities in addition to lectures, while tying the broader concepts to student's personal experiences.