Lauren Benz, PhD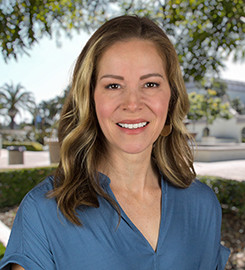 Office:
Shiley Ctr for Science & Techn 378
Associate Professor, Chemistry and Biochemistry
Ph.D., University of California, Santa Barbara, Inorganic Chemistry

B.Sc., University of Rhode Island

Postdoctoral work, Harvard University, Department of Chemistry and Chemical Biology
Lauren Benz, PhD, joined the University of San Diego in 2009 as the recipient of a Clare Boothe Luce Assistant Professorship. Her teaching interests are in the areas of general, inorganic, and physical chemistry. She strives to motivate students by incorporating fun and interactive demonstrations in class, and by connecting the course material to the real world. Lauren's research merges the general areas of surface science and materials chemistry, and focuses on the development of an atomic-level understanding of structure-reactivity relationships.
Areas of Expertise
Scholarly Work
In her research, Dr. Benz uses a variety of techniques to investigate reactions on surfaces. Currently, she is interested in probing the adsorptive and reactive properties of surface-supported metal organic frameworks. The goal of this project is to investigate the use of supported nanoporous frameworks for gas storage and pollution remediation. Also of interest to the Benz group is the chemical reactivity and catalytic properties of supported nanoclusters and nanostructures, including metals, oxides, and mixed systems.
Areas of Interest
Professor Benz's teaching interests are in the areas of general, physical and inorganic chemistry. She currently teaches general chemistry lecture and lab, and strives to motivate student interest in science. She is also passionate about encouraging and mentoring young women who are interested in pursuing a career in science.