Christopher Daley, PhD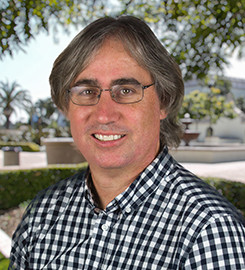 Office:
Shiley Ctr for Science & Techn 490
Lecturer II, Chemistry and Biochemistry
Ph.D.,University of Alberta,Chemistry

B.Sc., McGill University, Chemistry

Postdoctoral Fellow, Harvard University (in the laboratory of R. H. Holm, Ph.D.)
Christopher J. A. Daley, PhD, joined the faculty in 2007. He teaches general and inorganic chemistry undergraduate courses. His current research focus is in the areas of bioinorganic and inorganic chemistry with an emphasis on enzyme modeling and catalyst design.
Scholarly Work
Daley's current research has two distinct focuses – enzyme active-site modeling and new catalyst development. The Daley group is comprised of undergraduate student researchers. Students in the Daley group use organic and inorganic based synthetic chemistry methodologies to prepare small molecule compounds that model active-site structures of interesting enzymes or bind to metals to make catalysts for organic transformations. Systems being investigated include the enzymes nitrile hydratase and carbon monoxide dehydrogenase/acetyl co-A synthase, as well as catalysis reactions such as hydrogenations, cyclopropanations, and polymerizations.
Areas of Interest
Daley's teaching interests are in general, inorganic, organic, and organometallic chemistry. In his upper division classes, he looks in detail at inorganic and physical chemistry. General areas covered include theories on the nature of the atom, chemical bonding, and electronic structure as well as general structure and reactivity of organometallic complexes. Daley also teaches the fundamental principles of chemistry in his general chemistry courses.