Valerie Hohman, PhD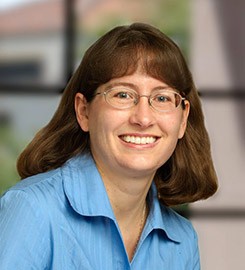 Office:
Shiley Ctr for Science & Techn 436
Associate Professor, Biology
PhD, University of Arizona, Microbiology and Immunology

BS, University of California, Irvine, Biological Sciences
Valerie Hohman, PhD, has been a member of the faculty since 1999 and teaches immunology, introduction to cell processes, and senior seminar. Hohman is a comparative immunologist who is interested in the evolution of the immune system. Her research focuses on identifying and characterizing molecules associated with secretory or mucosal immunity in the lower vertebrates.
Scholarly Work
Hohman's research interests are in the evolution of the immune system. Her current projects are aimed at characterizing J chain and polymeric immunoglobulin receptor (pIgR) in lower vertebrates. In mammals, these two molecules have an important role in antibody-mediated secretory immunity, the protection of mucous membranes, such as those lining the respiratory and gastrointestinal tracts, by secretory antibodies. As a comparative immunologist, Hohman is interested in the roles of J chain and pIgR in secretory antibody transfer in lower vertebrates and in the evolution of this transfer mechanism throughout the vertebrates. Her projects include a comparative analysis of J chain DNA sequences from an array of shark and ray species, and identification and characterization of pIgR molecules in amphibians and fish. Hohman's most recent publications on the nurse shark J chain and on pIgR from the amphibian Xenopus laevis have been in the Journal of Immunology.
Areas of Interest
Hohman teaches a lecture and laboratory course in immunology. She also teaches senior seminar and lecture and laboratory introduction to cell processes course.
Syllabi