​Master's in Supply Chain Management Degree Program
Be an innovator in the supply chain space.
With a master's in supply chain management, you'll do more than just learn about the latest best practices. Using case-based curriculum and simulations, you'll improve your existing skills in negotiations, cost management and sustainability. And you'll get the chance to help improve your own organization's supply chain for class credit.
Our flexible online format means you can learn at your own pace and still work regular hours. This means you can immediately apply every new innovative strategy you learn directly to your job. And while our classes are web-based, you'll still get face-to-face time with faculty and classmates during our five on-campus interactive sessions.
While you're in business school, you'll have access to our Supply Chain Management Institute where you can further your professional development by attending workshops that expose you to the latest trends in areas like transportation strategies, strategic sourcing and risk management.
Top 20 for Online Graduate Business Programs.
U.S. News ranks our Master's in Supply Chain Management degree in the top 20 for best online graduate programs. In our 2018 Alumni survey, 96% of respondents said they would recommend the program to others. 
The first of its kind.
Our ISM-approved master's in supply chain management program is the first U.S. degree accredited by the Chartered Institute for Purchasing and Supply (CIPS).
Quick Links
You're just steps away from developing world-class supply chain skills.
---
---
From new skills and opportunities to long asting connections, the value of your degree can last a lifetime. Learn about our competitively priced tuition.
Recent
Spotlights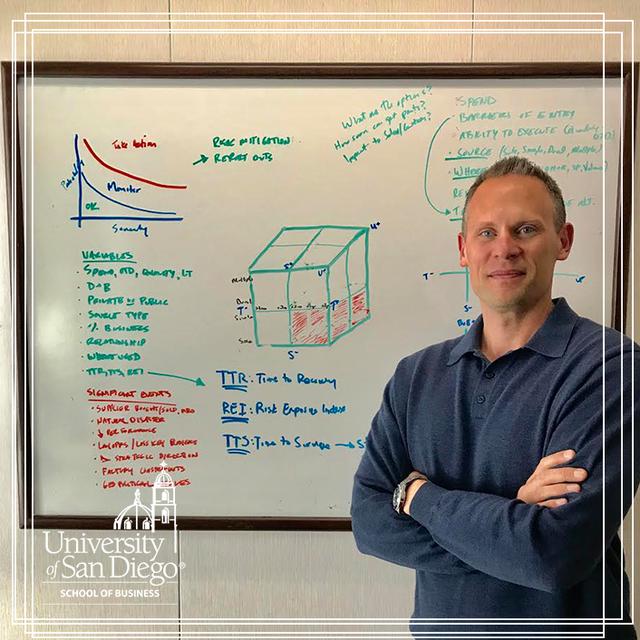 Justin Crachy, BSS, Procurement & Finance, MS-SCM, Supply Chain Management
March 6, 2018
The wall in Justin Crachy's office at Solar Turbines holds a large whiteboard illustrating various models innovating for his company's sup…
Career logistics.
Hold higher standards for yourself—and your company.
In the
News
// June 14, 2018

Sarah Barnes, an expert in supply chain and logistics with over twenty years of experience in the field, is host and founder of the "Let's T…

// May 21, 2018

What motivated you to pursue a major in supply chain management and operations? Sudeeptha Jothiprakash: One of the main focus areas fo…
Upcoming
Events
There are currently no events scheduled
GA School of Business Inquiry Form
Map
KIPJ 224
5998 Alcalá Park
San Diego, CA 92110