Kokila Doshi
Contact Information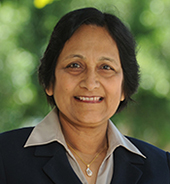 Kokila Doshi
Professor of Economics
Email | kdoshi@sandiego.edu
Phone | (619) 260-4843
Office | Olin Hall 110
Professor of Economics
Ph.D. University of Rochester, Economic Development and International Economics
M.A. University of Bombay, Economics and Econometrics
B.A. University of Bombay, Economics
Kokila Doshi is professor of Economics in the School of Business Administration. She joined the USD in 1988. Professor Doshi has developed two new international courses in the area of Asia-Pacific Business and Development. Recently, she also introduced another course in Tourism and Travel Economics. Professor Doshi's interest in applied economics and regional development is reflected in her economic impact studies. She conducted regional economic impact analysis of the X Games, the Rock 'n' Roll marathon, and the PGA International Golf Championship. Professor Doshi has published several scholary articles in economics and business journals. Her research interests focus on the privatization of public enterprises saving rates and economic policies of the Asian-Pacific countries. Professor Doshi has served on committees and task forces administering Irvine Grants for Cultural Diversity and Improvement of Statistical Instruction.
Selected Current Research
Journal Article, Academic Journal
Doshi, K. (2012). Diffusion, Adoption and Use of Mobile Phones in India. Dimensions-International management Journal of IBS, volume (issue 1), 1-7.
Doshi, K., Narwold, A. (2012). Regional Determinants of Building Green. Journal of International Business management & Research, volume (Issue 7), 125-135.
Golakotta, K., Doshi, K., , . (2011). Diffusion of technological innovations. Journal of Corporate Citizenship (issue 41), 69-82.
Ratcliff, R., Doshi, K. Using the Bass Model to Analyze the Diffusion of Innovations at the Base of the Pyramid. Business & Society
Book, Chapter in Scholarly Book-New
Doshi, K. (2010). Sustainability and Impact of Microfinance Institutions-A Case Study of ACCION San Diego. Advances in Appreciative Inquiry-Positive Design and Appreciative Construction: From Sustainable Dev, volume