Denise Dimon
Associate Provost for International Affairs
Director, Ahlers Center for International Business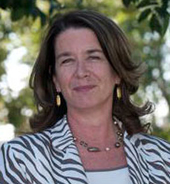 Degree
PhD, University of Illinois, Economics
MS, University of Illinois, Economics
MIM, University of Denver, Masters of International Management
BA, University of Colorado, Economics
Areas of Expertise
Economics, International Business
Selected Publications
Women's Participation in a Two Tiered Informal Labor Sector, Women in the Informal Sector: Case Studies and Theoretical Approaches
Globalization and International Development: The Ethical Issues, Broadview Press
The Legacy of C.K. Prahalad: Business at the Base of the Pyramid, Administradores
EU and US Regionalism: The Case of Latin America, The International Trade Journal
Trade Regionalism of the US and the EU: Cooperative or Competitive Strategies, The International Trade Journal
Summary
Denise Dimon has been a Fulbright Scholar in Argentina and Uruguay, a distinguished visiting professor at the Graduate School of Business Administration and Leadership of at the Tecnológico de Monterrey (EGADE Campus Monterrey); a visiting professor at numerous international universities; and has consulted for private companies and organizations on four continents.
Her current areas of research and teaching include topics in international business, international economics and the role of business in poverty reduction. She serves as co-editor of the Latin American Business Review and co-director of the Latin American Network (an internet-based publishing service as a part of the SSRN network providing abstracts of research papers and professional announcements worldwide).
Recent recognitions include "Professor of Impact," a USD Steber Fellowship and a two year grant from the U.S. Department of Education, Bureau of International Education.