Simon Croom
Contact Information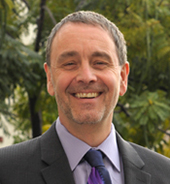 Simon Croom
Professor of Supply Chain Management
Email | scroom@sandiego.edu
Phone | (619) 260-2791
Office | Alcala West, Coronado 211
Professor of Supply Chain Management
Ph.D. University of Warwick (UK)
M.S. University of Warwick (UK), Management Science and Operational Research
B.A. Lanchester Polytechnic, Coventry (UK), Honours Degree in Business Studies
Simon Croom has spent his entire professional career in supply chain management, both as practitioner and as a leading academic researcher. His postgraduate studies were in in both politics & history and management science. His Ph.D. research was into co-design capabilities in the auto industry supply chain of Jaguar Cars through the doctoral program of Warwick Business School in the UK. He was admitted as Fellow to the Chartered Institute of Purchasing and Supply in 1992.
Croom has held an Associate Professorship in Operations at Warwick Business School for 12 years and previously was Senior Lecturer in Strategic Management, Operations Research and Supply Chain Management in the UK at Sheffield Hallam and Coventry Universities. He is a Research Fellow at Curtin Business School in Perth, Australia.
In his business career, Croom owned of several successful retail businesses and was a supply chain professional at Jaguar Cars Ltd and Eaves & Washbourne, both located in England.
Croom has written and spoken globally on the topic of e-procurement, e-business and supply chain strategy. He instigated the first e-business course at Warwick Busines School in 1999 and his expertise led to being retained as an Advisor to the UK Government's Office of Government Commerce.
He has just completed a $400,000 project on World Class Supply Chain in the UK for a major financial organization. Croom has published over 60 technical papers and serves on the Editorial Board for a number of leading journals.
Selected Current Research
Journal Article, Academic Journal
Betts, A., Croom, S., Lu, D. (2011). Benchmark to escape from Lake Wobegon. Benchmarking: International Journal, 18 (5), 733-744.
Croom, S., Betts, A. (2011). Developing a Forensic Approach to Process Improvement: The Relationship between Curriculum and Impact in Front Line Operator Education . Journal of Education for Business, 86 (6), 1-6.
Lu, D., Betts, A., Croom, S. Re-investigating Business Excellence: values, measures and a framework. Total Quality Management and Business Excellence
Journal Article, Public or Trade Journal
Lynch, R., Croom, S. Rethinking the Supply Chain: Ten New Mindsets. What Finance Officers Need to Know about Alliances. Startegic Alliance Magazine
Book, Chapter in Scholarly Book-New
Croom, S. (2014). The Strategic Buyer: How Emerging Procurement Strategies May Support KAM/SAM Relationships. The Handbook of Strategic Account Management