Diane Pattison, Ph.D.
Contact Information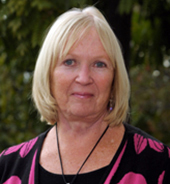 Diane Pattison, Ph.D.
Academic Director, Graduate Accountancy Programs
Professor of Accountancy
Email | pattison@sandiego.edu
Phone | (619) 260-4850
Office | Olin Hall 216
Academic Director, Graduate Accountancy Programs
Professor of Accountancy
Ph.D. University of Washington, Managerial Accounting/Financial Accounting/Economics/Research Method
MBA California State University, Hayward, Accounting
B.S. University of Oregon, Mathematics
Diane D. Pattison, Professor of Accountancy, joined the USD faculty in 1986. Professor Pattison has taught at Arizona State University. She has also been a visiting professor at Bocconi University in Milan, Italy.
Currently serving as a Professor of Accountancy, Academic Director of the Graduate Accountancy Programs, and the Director of the Accountancy Institute at USD, Pattison's major contribution to the School of Business Administration has been the development of a strong interactive relationship between the professional accounting community and the accounting area. In addition, she has enhanced the undergraduate accountancy program both through effective teaching and by encouraging growth and understanding through advising both the Accounting Society and Beta Alpha Psi.
She has published many articles in Management Accounting, presented papers at a variety of conferences, won the best paper award at 1995 Western Decision Sciences Conference and the Lybrand Silver Medal for an article in Management Accounting. In March 2011, Pattison was awarded the Best Manuscript Award for the article titled "Incorporating Leadership into the Accounting Curriculum," at the AAA Southwest Meeting.

In addition, she was recognized as a University of San Diego University Professor in 1999-2000, and the USD Steber Professor in 2007-08. She was recognized as Undergraduate Accountancy Programs Professor of the Year in 2008.
Pattison has served on a variety of University committees including the Faculty Senate, ARRT Committee. Honors Convocation, and Graduate Studies Committee. In the larger community Professor Pattison was International Beta Alpha Psi Organization President for the year 2000. Also, she has served in many different capacities in various professional organizations including Institute of Management Accountants-San Diego Chapter President in 1995-96, and Financial Executives International President in 2001-02. In 1995, she was recognized by the San Diego Business Journal as one of the "San Diego Women Who Mean Business". In 1993, she was recognized as an Outstanding Faculty Advisor for Beta Alpha Psi at the national level.
Selected Current Research
Conference Proceeding
Margheim, L.,Hora, J.,Pattison, D. (2007). A First Look at the Educational Competencies Desired by Mid-Sized CPA Firms. Proceedings of the Southwest Region of the Decision Science Institute -- San Diego Annual Meeting
Journal Article, Academic Journal
Pattison, D.,Zocco, D. (2012). Private Equity Portfolio Valuation Audit Negotiation. Journal of Finance Case Research
Margheim, L.,Hora, J.,Pattison, D. (2010). Educational Competencies That Mid-Sized CPA Firms Value In Their Professional Accounting Staff. American Journal of Business Education, 3 (6), 69-80.
Margheim, L.,Kelley, T.,Pattison, D. (2005). An Empirical Analysis of the Effects of Auditor Time Budget Pressure and Time Deadline Pressure. The Journal of Applied Business Research, 21:1
Journal Article, Professional Journal
Dalton, T.,Pattison, D. (2008). Deciding to work while collecting Social Security. The CPA Journal, 78 (7), 48-51.
Dalton, T.,Pattison, D. (2007). Timing Home Sales to Maximize Exclusion May Be Unwise. Practical Tax Strategies, 79 (2), 86-92.