Loren Margheim
Contact Information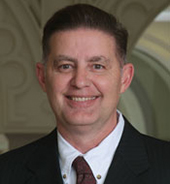 Loren Margheim
Chair, Accountancy Programs
Professor of Accountancy
Email | margheim@sandiego.edu
Phone | (619) 260-4834
Office | Olin Hall 222
Chair, Accountancy Programs
Professor of Accountancy
Ph.D. Arizona State University, Accounting
Master of Accountancy University of Denver, Financial Accounting
B.S.B.A. University of Denver, Accounting
Loren Margheim, professor of Accounting, joined the USD School of Business Administration faculty in 1984. Prior to entering academics, Margheim worked as a medicare program auditor and has since spent a year serving as faculty member in residence for Arthur Andersen & Co., an international accounting firm.

Margheim's specialties are in corporate financial reporting and auditing. His research has generally focused on factors that affects the behavior of auditors while performing audits. Specifically, he has performed research that has identified factors that cause auditors to engage in dysfunctional behaviors during their audits. He has also extensively examined how the work performed by a corporation's internal auditors affects the work of their external CPA's. His research papers have been presented at numerous professional meetings and have appeared in such journals as Journal of Accounting Research, Advances in Accounting, Auditing: A Journal of Theory and Practice, and Accounting Horizons. In 1997 Margheim was appointed associate editor of Advances in Accounting in recognition of his research expertise in behavioral accounting issues.

Margheim has regularly served on numerous committees such as the School of Busines Administration Undergraduate Studies Committee, Rank and Tenure Committee and, currently the Long Range Planning Committee. He is also very involved with the accounting faculty including the current issues of curriculum redesign and assessment of graduating student skills. He is also currently serving as the chair of the Accounting Faculty Recruiting Committee.
Selected Current Research
Journal Article, Academic Journal
Bowen, B., Jollineau, J., Margheim, L. (2013). iRobot Corporation's Intellectural Property: Accounting For Research and Development Under US GAAP Versus IFRS. Journal of Business Case Studies, 9 (4)
Kelley, T., Margheim, L. (2012). The Case of ABC Tech and its Variable Interest Entities. Journal of Business Case Studies, Volume (March/April 2012), 151-164.
Kelley, T., Hora, J., Margheim, L. (2010). A Financial Analysis Case of Amazon.com and Barnes & Noble with Emphasis On The Impact of ROE Versus EPS. Journal of Business Case Studies, 6 (3), 21-32.
Margheim, L., Hora, J., Pattison, D. (2010). Educational Competencies That Mid-Sized CPA Firms Value In Their Professional Accounting Staff. American Journal of Business Education, 3 (6), 69-80.